ALA Midwinter: The Librarians Go to Boston
Librarians, publishers and other industry professionals--more than 11,700 of them--got lucky in Boston this year: no snow for the 2016 American Library Association's Midwinter Meeting, January 8-12. Ken Burns and Chelsea Clinton were two of the featured speakers, sure, but this is the show where the ALA Youth Media Awards (Caldecott! Newbery!) are announced at a press conference where librarians actually scream at the top of their lungs when a book they love shows up on the Jumbotron of Winners. (It's very exciting.) What follows is an unapologetically children's & YA literature-centric series of snapshots from Boston.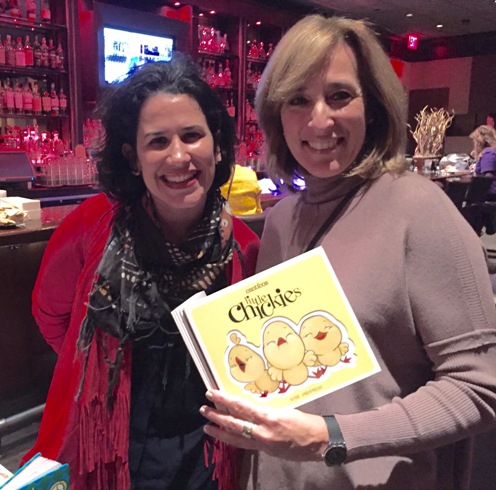 Susie Jaramillo (left) and Deborah Sloan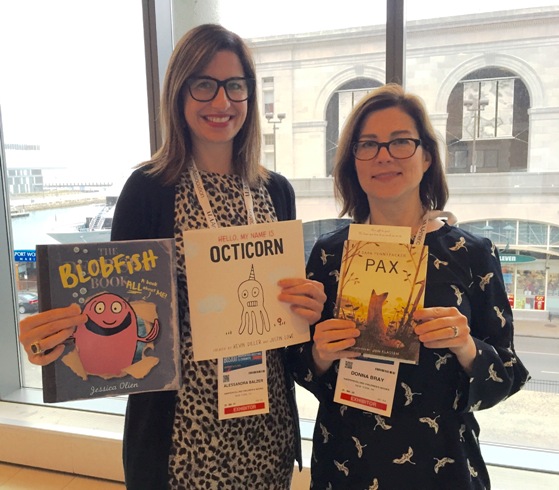 Alessandra Balzer (left) and Donna Bray
Book Talk
Children's marketing guru Deborah Sloan (and the woman behind KidsBuzz) got the party started at the Westin Hotel's City Bar even before the Boston Convention Center's exhibit hall opened. Here, a stellar crowd of children's book aficionados (including Terry Hong, the chair of the USBBY Outstanding International Books Committee) toasted to an enticing crop of spring titles from small publishers including minedition, Clavis, Phaidon, NubeOcho Editions and Encantos. Author-illustrator and publisher Susie Jaramillo and Deborah Sloan hold Little Chickies/Los Pollitos, due this spring, a cheerful novelty book based on a nursery rhyme and song, one side Spanish, one side English. (If you ever meet Susie, ask her to sing it.)
The early-morning HarperCollins Children's Books breakfast is a decades-old tradition. Here, Alessandra Balzer and Donna Bray of Harper's imprint Balzer + Bray reveal a few of their favorite upcoming titles, including Jessica Olien's The Blobfish Book; Kevin Diller and Justin Lowe's Hello, My Name Is Octicorn; and Sara Pennypacker's Pax. Also spotted: Greenwillow v-p & publisher Virginia Duncan talking with children's book specialist Maria Salvadore about Newbery Medalist Lynne Rae Perkin's picture book Frank and Lucky Get Schooled, due in June.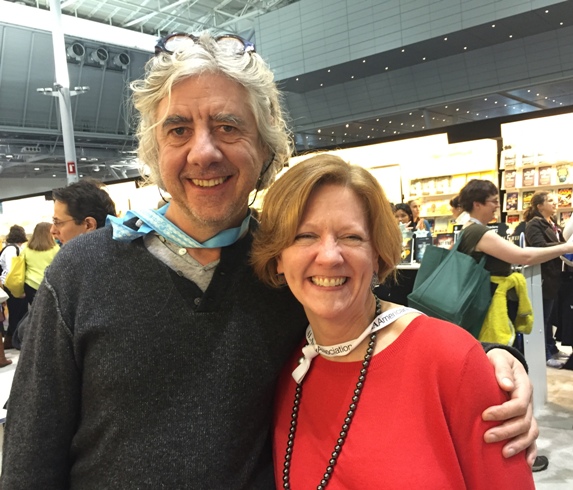 Hervé Tullet and Jennifer M. Brown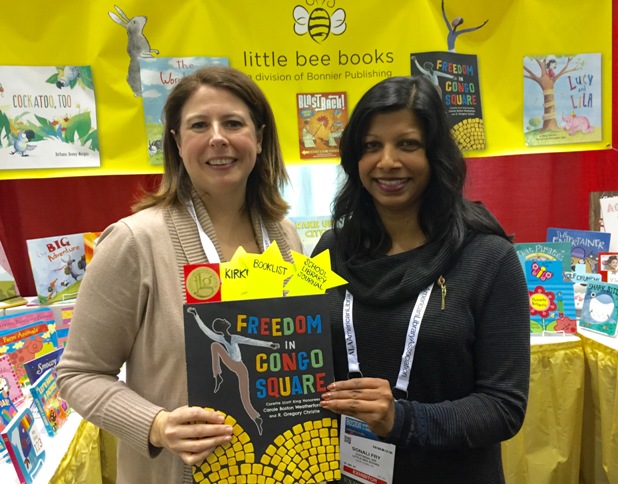 Sarah Rucker (left) and Sonali Fry
On the Floor
The exhibit hall at Midwinter ALA is a wonder of chance encounters. Shiny new books and free-for-the-taking galleys abound, yes, but attendees never know who they will bump into--esteemed colleagues, fascinating new people of every stripe, and even the occasional wandering author or artist. Here, French author-illustrator Hervé Tullet--who has just moved from Paris to New York and is promoting his new book Let's Play! (Chronicle)--ran into (and then embraced, as is customary) Jennifer M. Brown, v-p & publisher of Alfred A. Knopf Books for Young Readers (and former children's editor at Shelf Awareness). Say cheese!
Look at all those stars: sales director Sarah Rucker and editorial director Sonali Fry from Little Bee Books are thrilled about the buzz surrounding their January 2016 title Freedom in Congo Square, a picture book about the fascinating history of New Orleans's Congo Square by Coretta Scott King Honorees Carole Boston Weatherford (Moses: When Harriet Tubman Led Her People to Freedom) and illustrator R. Gregory Christie (The Palm of My Heart: Poetry by African American Children; Only Passing Through: The Story of Sojourner Truth; Brothers in Hope: The Story of the Lost Boys of Sudan; The Book Itch: Freedom, Truth & Harlem's Greatest Bookstore).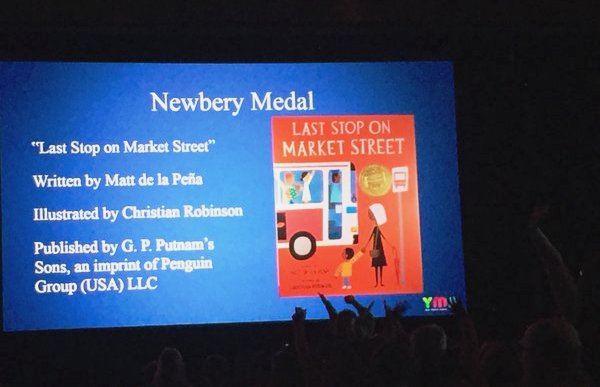 Librarians cheer as the winner is announced on the big screen.
The Youth Media Awards
Midwinter ALA is always abuzz with which book might win the Newbery or Caldecott (and 19 other possible prizes, from the Coretta Scott King awards to the Mildred L. Batchelder awards), but this year the mutterings were just that... there was no loud, shared buzzing. A few people had mentioned Rebecca Stead's Goodbye Stranger (Wendy Lamb/Random House) as a potential Newbery, some were raving about Steve Sheinkin's Most Dangerous: Daniel Ellsberg and the Secret History of the Vietnam War (Roaring Brook/Macmillan), but really, the guesses were all over the map. So when Latino author Matt de la Peña was announced as the winner of the 2016 John Newbery Medal for the writing in the picture book Last Stop on Market Street (Putnam), illustrated by Christian Robinson (Leo: A Ghost Story; Gaston; Josephine), it was a shocker for everyone, perhaps especially for de la Peña. As he said in Shelf Awareness's interview with him this week, "I just never in my wildest dreams, even for half a second, thought about the word Newbery."
Illustrator Sophie Blackall won the 2016 Randolph Caldecott Medal for Finding Winnie: The True Story of the World's Most Famous Bear, written by Lindsay Mattick (Little, Brown); Laura Ruby won the 2016 Michael L. Printz Award for Bone Gap (Balzer + Bray/HarperCollins); and Jerry Pinkney, illustrator of the 2010 Caldecott Medalist The Lion & the Mouse (Little, Brown) and five other Caldecott Honors, took home two prestigious awards: the Laura Ingalls Wilder Award and the Coretta Scott King-Virginia Hamilton Award for Lifetime Achievement. This year also marks the 20th anniversary of the Pura Belpré Award that honors Latino/Latina authors and illustrators. The complete list of Youth Media Awards and titles is here, and the Newbery-Caldecott-Wilder banquet happens at ALA's annual conference in Orlando in June.
Though the ALA Notable Children's Books are not announced with the rest of the Youth Media Awards, these books are not to be missed. Librarians and other children's book specialists read everything published in 2015--all age groups, all genres, even books in translation--to come up with a fantastic, and fantastically lengthy, list of the year's best books, divided by age level.
Getting the best books into the hands of young people is a goal shared by all the children's and YA librarians and other professionals at ALA, and to mix and mingle with those doing exactly this feels like a celebration. --Karin Snelson, children's & YA editor, Shelf Awareness
---

---