B&N CEO Boire Departs; Riggio Stays for Now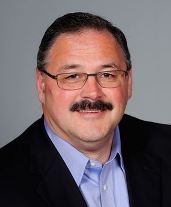 Ron Boire
Yesterday, Barnes & Noble's board of directors announced the departure of CEO Ronald D. Boire, stating that Boire "was not a good fit for the organization and that it was in the best interests of all parties for him to leave the company." Boire took the position in September 2015, as B&N was spinning off its college operations as Barnes & Noble Education.
Executive chairman Leonard Riggio, who had said in April that he would retire at the close of B&N's annual meeting September 14, will postpone his retirement until a later date. B&N will immediately begin an executive search for a new CEO. Riggio, along with other members of the executive management team, will assume Boire's duties.

In its most recent report, for the fiscal year ending April 30, B&N sales fell 3.1%, to $4.16 billion, and the net loss jumped to $30.6 million from a net loss of $3 million a year earlier. For the year, retail sales fell 1.9%, to $4 billion and sales at stores open at least a year were flat. In the past year, B&N shares have fallen 25% in value.
In June, B&N outlined plans for its new concept stores, which are to make their debut in October, that would be 20%-25% smaller than its average superstores, have many chairs and tables "for people to sit, hang out," and feature full-service restaurants with liquor licenses. (This last item led to many headlines in the press about B&N's turn to "books and booze.") Restaurants are to become such a major item that B&N promoted chief operating officer Jaime Carey to president of development & restaurant group. The company has continued to increase its stock of non-book items, particularly gifts and music.
Before joining B&N, Boire had been president and CEO of Sears Canada and executive v-p, chief merchandising officer and president, Sears and Kmart Formats at Sears Holdings. Earlier he held other executive positions, including president and CEO of Brookstone; president, North America, of Toys R Us; executive v-p, global merchandise manager for Best Buy; and worked at Sony Electronics for 17 years, where he was, among other positions, president of Sony's personal mobile products company and president of the consumer sales company.
---

---