Third Independent Bookstore Day Shines Across the Country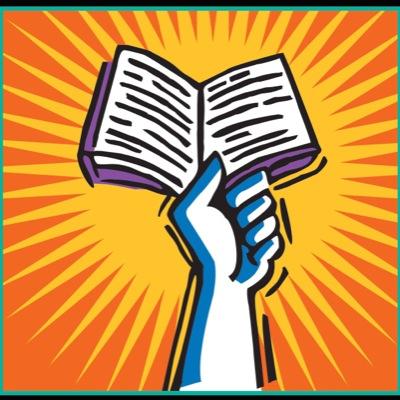 The third annual Independent Bookstore Day was another striking achievement. Reports over the weekend from booksellers, social media posts and our own intrepid investigations indicated that stores were busy, staff enthusiastic and that the mix of IBD exclusives, author appearances and other special events were embraced by customers. We have a lot of coverage here and will have more tomorrow.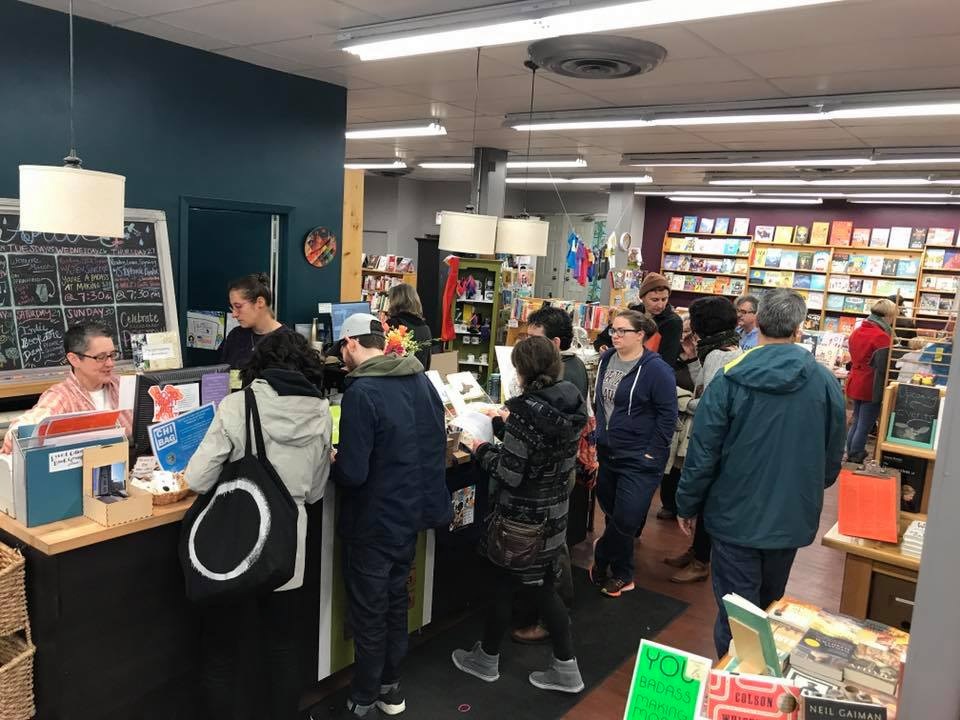 Lines at Women & Children First
Despite cold, relentless rain, Independent Bookstore Day at Women & Children First, Chicago, Ill., was "a staggering success," according to co-owner Sarah Hollenbeck. Sales were up 61% compared to IBD last year. "The checkout line never let up and it definitely felt like the holidays came early!" Hollenbeck gave all the credit to the ChiBA (Chicagoland Independent Bookstore Alliance) and the #MyChicagoBookstore Challenge--more than 30 people visited 10 bookstores in the Chicago area and earned a 10% discount at all the participating bookstores for a year.
Women & Children First also offered snacks from neighborhood coffeeshops and bakeries, and hosted a panel discussion, as part of its the Conversation literary series, about "why books matter now and how we encourage more people to read more challenging books and the publishing industry to publish them." Of the exclusive IBD offerings, Kindred Spirits by Rainbow Rowell was particularly popular: half a dozen people who were waiting in line when the store opened at 8 a.m. pounced on the store's small stack.
Annie Philbrick, owner of Bank Square Books, Mystic, Conn., and Savoy Bookshop & Café, Westerly, R.I., called IBD "a perfect day" at both stores "for a variety of reasons." Staff used some "creative whimsy" in decorating the stores with balloons and literary chains of books pages, and served a one-year anniversary cake at Savoy (where customers joined in to sing "Happy Birthday." Activities included author signings with Ann Haywood Leal and Barbara Delinsky. At the Savoy, members of the Rhode Island Preservation and Heritage Commission who were in Watch Hill for their annual conference visited the store. "Beautiful weather made the day even better," Philbrick added.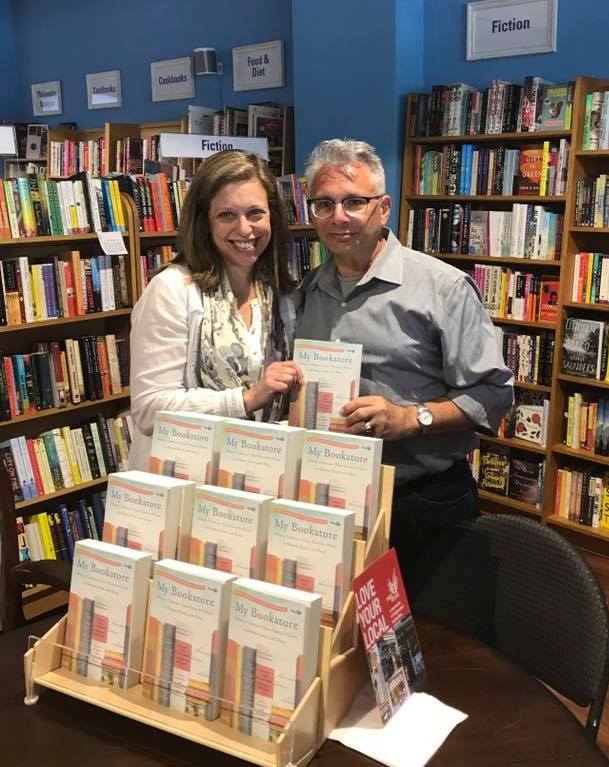 Ronald Rice with Cathy Fiebach at Main Point Books.
Many stores featured the newly issued paperback edition of My Bookstore: Writers Celebrate Their Favorite Places to Browse, Read, and Shop, edited by Ronald Rice, illustrated by Leif Parsons, with a foreword by author Richard Russo and an afterword by Emily St. John Mandel. This edition of the tribute to independent bookstores is an updated version of the 2012 hardcover, with essays by 93 writers about their favorite indies. Black Dog & Leventhal timed the release of the paperback to IBD. Editor Ronald Rice, an industry vet, was at Main Point Books, Wayne, Pa., on Saturday.
Skylight Books, Los Angeles, Calif., had "a great and fun indie bookstore day," manager Steven Salardino reported. Total in-store sales were just a bit shy of last year's IBD sales, which was higher than expected because Skylight hosted "two sold-out offsite events with Elizabeth Warren that evening that made the day incredibly emotional for us" and because of the Festival of Books the previous weekend. "But our customers came through and piled the titles on the checkout counter," Salardino added. "It felt like all the book lovers in Los Angeles were really behind us and wanted to celebrate books and independent bookstores." The bestselling IBD items at Skylight were Michael Chabon's The Sandmeyer Reaction and A Literary Cocktail Party.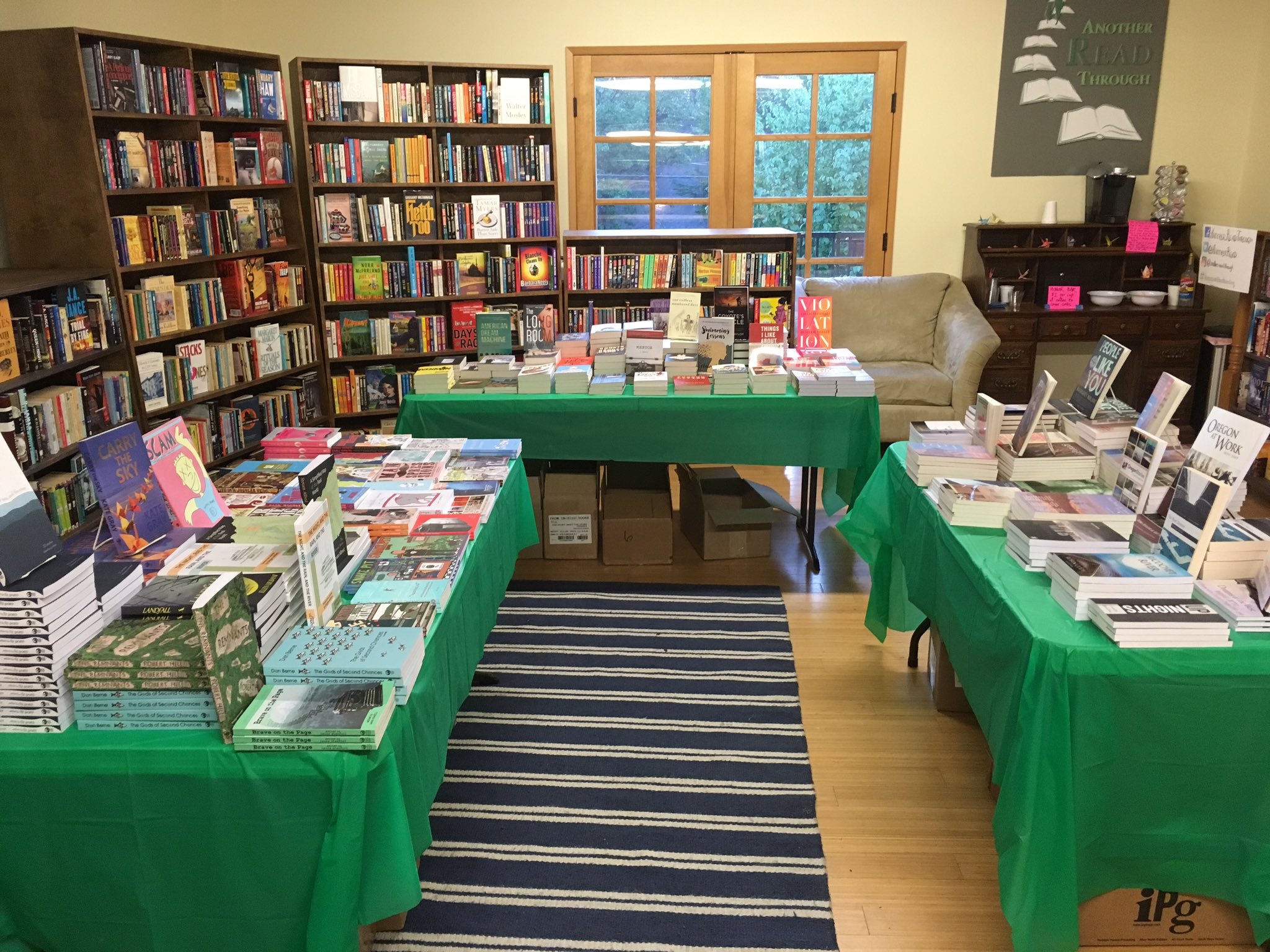 Local publisher titles on display just prior to opening at Another Read Through
Another Read Through, Portland, Ore., "spread the independent love" yesterday with a warehouse sales featuring six local indie publishers: Forest Avenue Press, Hawthorne Books, Tin House, Ooligan Press, Atelier26 Books and Microcosm. They brought new stock marked down 50%. Anyone who purchased three of more of the books was entered into a raffle for gift cards to a range of independent bookshops and restaurants up and down the street.
Owner Elisa Saphier reported that the store didn't attract as many people as expected because of "one of our first nicer Saturdays" in a while, "but everyone who did come in was excited to see such great titles by the local publishers offered at such a discount.... When people came through who didn't know that we were doing this, their eyes lit up and they raced into the loft to see what the publishers were offering. I think it was a combination of book readers loving a good sale and the knowledge that these publishers put out such high quality and diverse work.... Almost no one could buy just one."
Saphier added that she wants to do the warehouse sale biannually, with one always on Independent Bookstore Day. "We're always trying to find ways for local authors/publishers/shops to work together and strengthen each other, and this is one of my favorites."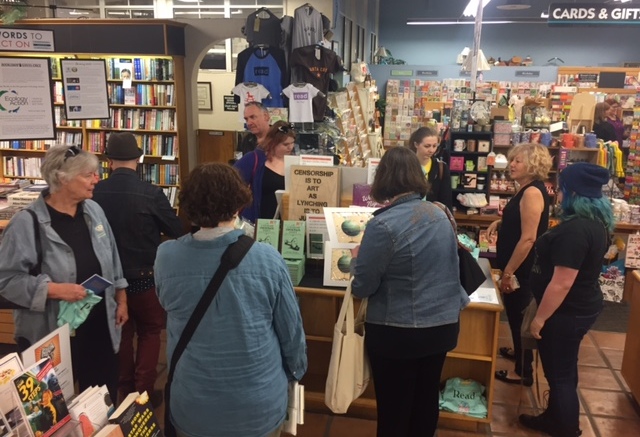 Strong sales at Bookshop Santa Cruz.
At Bookshop Santa Cruz, Santa Cruz, Calif., Saturday was "a very successful (and fun!) Independent Bookstore Day," said owner Casey Coonerty Protti. Sales rose from last year's IBD and were up more than 70% compared to a typical Saturday in April.

A line formed outside the store before 9 a.m., and many customers took photos in the Team Hogwarts vs. Team Star Wars photo booth, made literary bike wheel cards and alternative little golden books (with anti-Trump themes), spun the prize wheel, did scavenger hunts of book covers, met local authors, and participated in a family book art project--all capped with the third annual literary trivia night. The most popular IBD items were the Jeffers print, the Gaiman anthology, Nightingale vinyl, the literary condoms and A Literary Cocktail Party.

"A good time was had by all and I heard many, many customers say they came in because they love and value independent bookstores so much," Protti added.
IBD was "a great day" at Island Books, Middletown, R.I., reported owner Judy Crosby, with "good business and lots of fun had by all." The store offered "speed dating with books," consisting of brown-paper-wrapped recent ARCs with the first page glued to the outside, as well as a literary quiz, which had 20 multiple-choice questions and two matching quizzes with 10 items in each. "Both of these activities kept people in the store for quite some time and customers really interacted with one another," Crosby said. In addition, Island Books gave away Chronicle's "see things differently" reusable shopping bags with a purchase of $50 or more, which "encouraged people to up their purchases, making it a good day sales-wise, too."
---

---