Twin Cities Bookstores: Destroyed, Damaged, Spared in Protests
In the sometimes violent protests that followed the murder last week of George Floyd by police in Minneapolis, Minn., some bookstores in the Twin Cities were destroyed and damaged, while others have remained unscathed but are boarded up and not sure when and how to reopen.
The most destructive case involved Uncle Hugo's Science Fiction Bookstore and Uncle Edgar's Mystery Bookstore in Minneapolis. The building housing "the Uncles" was one of many on its section of Chicago Avenue that burned to the ground on Thursday night. On the stores' website, the Uncles' Elizabeth told fans that she had spoken with owner Don Blyly, who "appreciates the outpouring of support he has received from around the globe. He is currently considering various options, but will need some time to process this tragedy and loss before he is ready to make decisions."
She emphasized that "per the local authorities, as of this morning, virtually all of the people arrested for these crimes are from out of state. Eyewitness accounts and livestreams report fires being set by young white men."
In a message to staff, Blyly recounted being awoken at 3:30 a.m. by a call from the building's security company saying that the motion detector was showing somebody inside. "I threw on clothes and headed over there," he wrote. "When I was two blocks away I received a call that the smoke detectors were showing smoke in the store. Every single building on both sides of Chicago was blazing and dozens of people dancing around.
"As I pulled into the [nearby] lot I could see that flames were leaping out the front windows of the Uncles. It looked to me like they had broken every window on the front of the Uncles and then squirted accelerant through each broken window. It looked hopeless to me, but I went around to the back door to see if I could get to a fire extinguisher. As soon as I opened the back door a wave of very thick black smoke poured out, so I quickly closed the door again....
"I'm pretty sure the insurance policy excludes damage from a civil insurrection, so I suspect I won't get a cent for either the building or the contents."
Founded in 1974, Uncle Hugo's is one of the oldest science fiction bookstores in the U.S.
---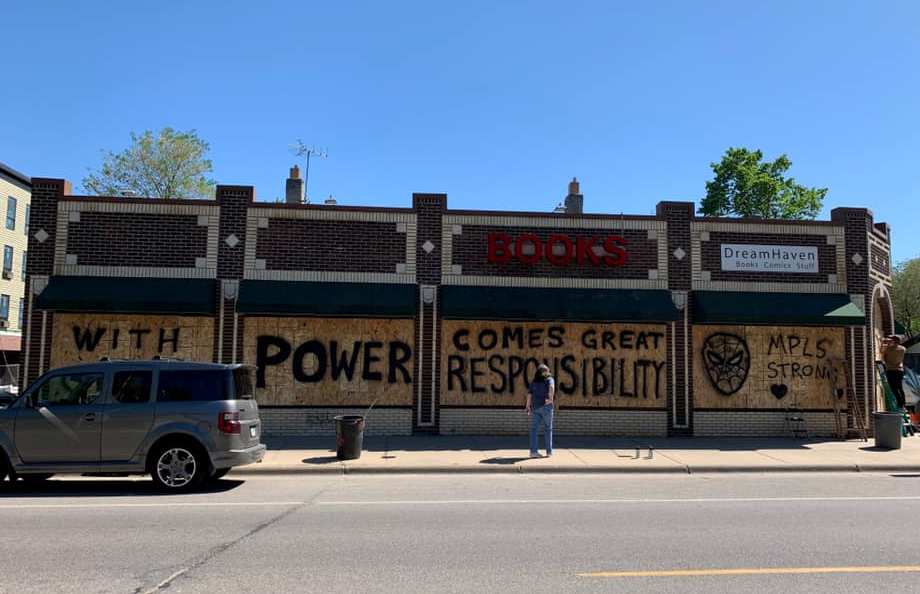 DreamHaven Books and Comics in Minneapolis was broken into, looted and damaged but an attempt to set it on fire didn't succeed. On Saturday the store posted on Facebook that the store was "a mess, with most of the glass cabinets at least partially broken. There were a few merchandise casualties and they took/destroyed the electronics they found, but mostly they ignored the books. All except the one they tried to burn, which they left to smolder and which put itself out." But the next day many people came by "to help and wish us well.... So for the moment, we're done. There are a lot of things that need to be put back into place, and it will be a little while before we can open again. But we're here and safe and once we get through this patch we will again be able to open for business."
In the meantime, the store is boarded up with plywood that features the slogan "With great power comes great responsibility."
---
Magers & Quinn Booksellers in Minneapolis sustained some property damage--mostly broken windows and doors. As of Thursday, the store had postponed plans to re-open in the wake of Covid-19 pandemic and suspended all business, including shipping and alley-side pickup services. On its website, the store said, "We will resume these operations as soon as we are able, and orders may still be placed on our website."
On Friday, manager Paul Mostrom told Twin Cities Business, "To be honest, I'm not reflecting a lot at the moment. This whole situation, for me, has been personally very troubling, right from the start. The property damage is frustrating and hard to deal with, but it's the least tragic thing about this situation."
---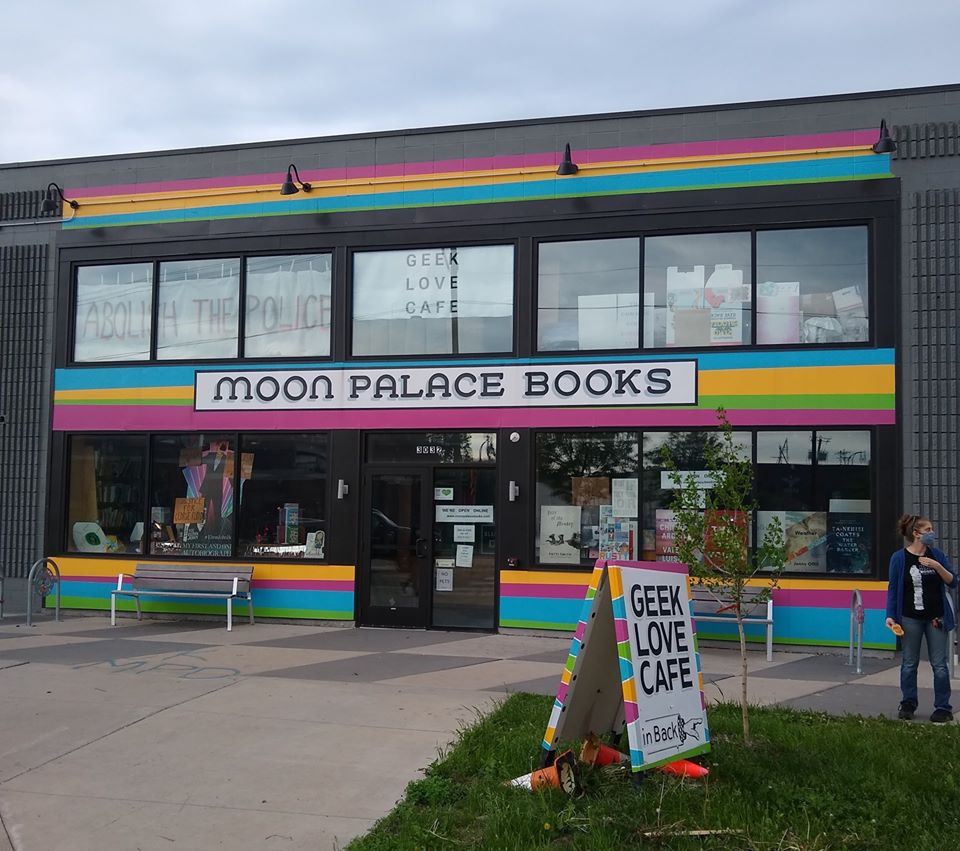 Moon Palace Books with "Abolish the Police" sign in the upper window.
Moon Palace Books, located in the center of the protests in Minneapolis, served as a medical station for protesters the first few nights and had a big sign reading "Abolish the Police." The store sustained some minor damage--broken windows and graffiti--but was spared the arson and looting that ruined many nearby businesses. On Saturday on Twitter, the now-boarded-up store reported: "We're ok. This is hard. Our community is hurting and organizing. Be kind to each other and don't stop seeking justice. Abolish the police."
The nearby Hennepin County Library East Lake was damaged, with windows broken, vandalism and some books burned.
---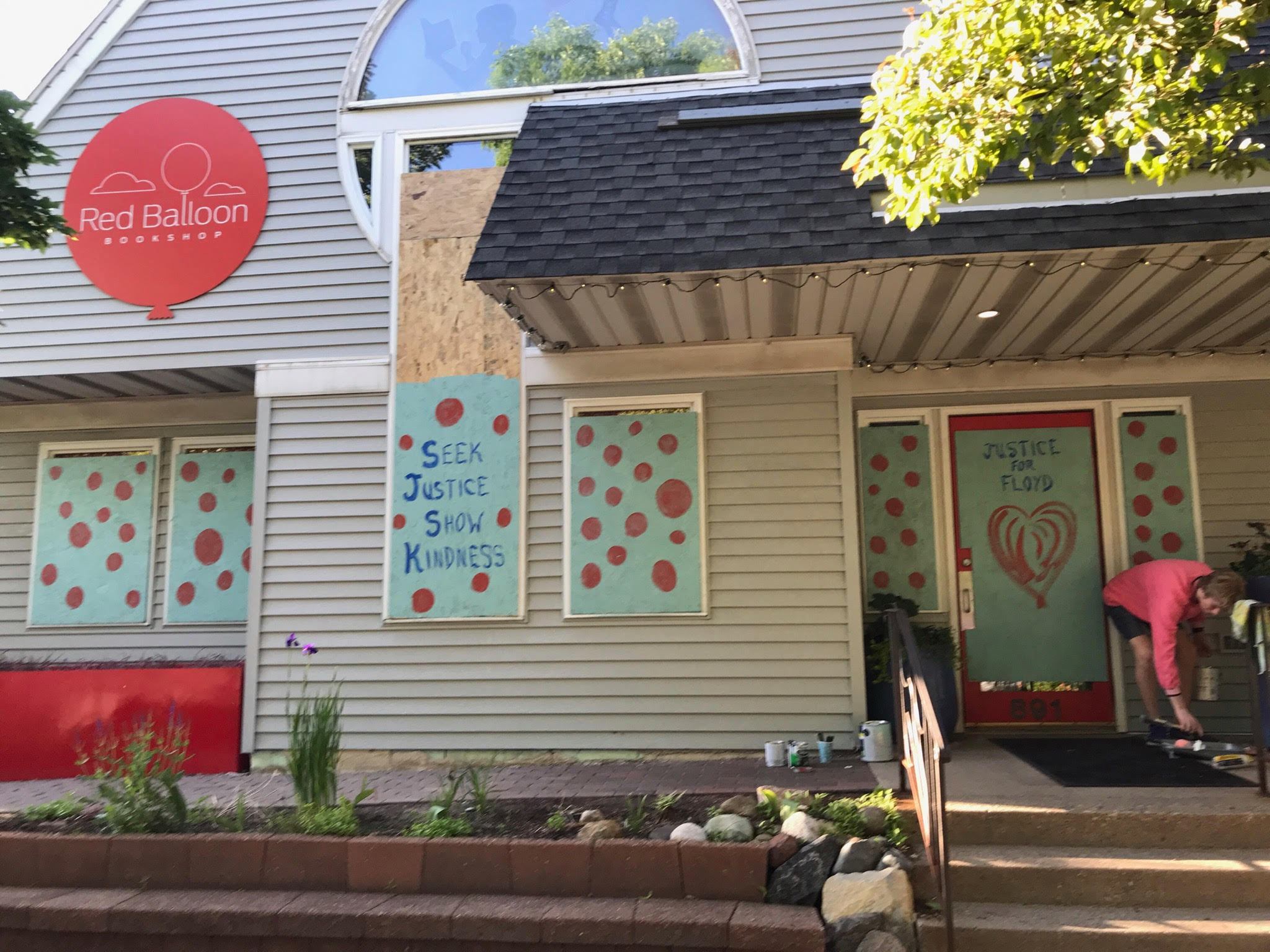 The Red Balloon Bookshop in St. Paul was safe, with windows boarded up. On Saturday, when a few staff members were on site, the store posted on Facebook in part: "We are heartbroken for Uncle Hugo's/Uncle Edgar's. We are heartbroken for Minneapolis. We are heartbroken for George Floyd's family. #JusticeForGeorge #BlackLivesMatter."
---
Likewise Next Chapter Booksellers in St. Paul was safe but boarded up. Yesterday, the store posted on Facebook: "It seems the store is OK, but it's going to be a while until we can restore normal operations. We don't even have a front door for curbside pickup at the moment. Bear with us as we figure this out."
---

---