Denver's Tattered Cover Sold to Investor Group, Becomes Largest Black-Owned U.S. Bookstore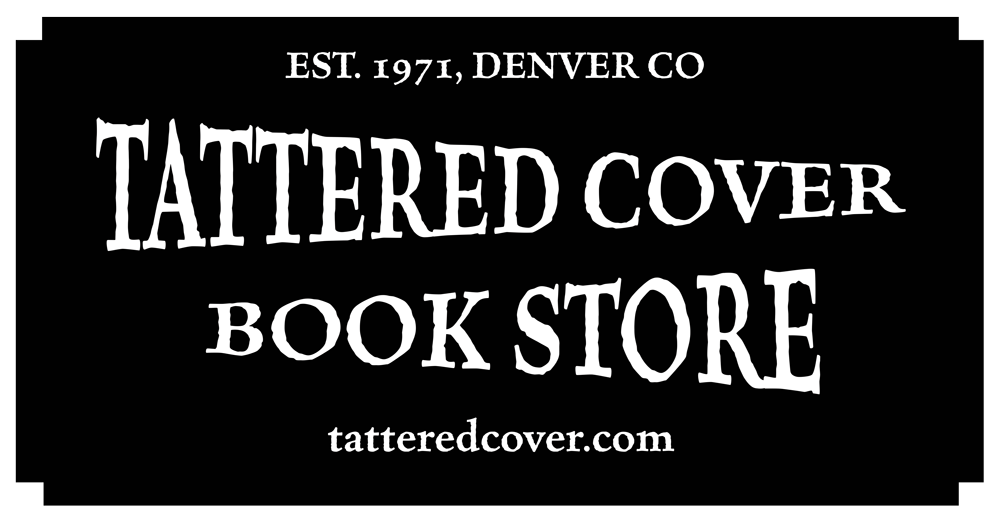 The Tattered Cover, Denver, Colo., one of the best known and most highly regarded independent bookstores in the country, has been sold by Len Vlahos and Kristen Gilligan to a group of investors headed by two local businesspeople with experience with startups and business management: Kwame Spearman and David Back, who are, respectively, CEO and chairman. The group is called Bended Page LLC and includes "national bookselling and publishing experts," among them former American Booksellers Association CEO Oren Teicher and John Sargent, who is leaving Macmillan Publishers as CEO in January. Because Spearman, who is Black, is the largest investor and CEO, Tattered Cover has become the largest Black-owned bookstore in the U.S. (For more about Spearman and Back, who are longtime friends and entrepreneurs, see following article.)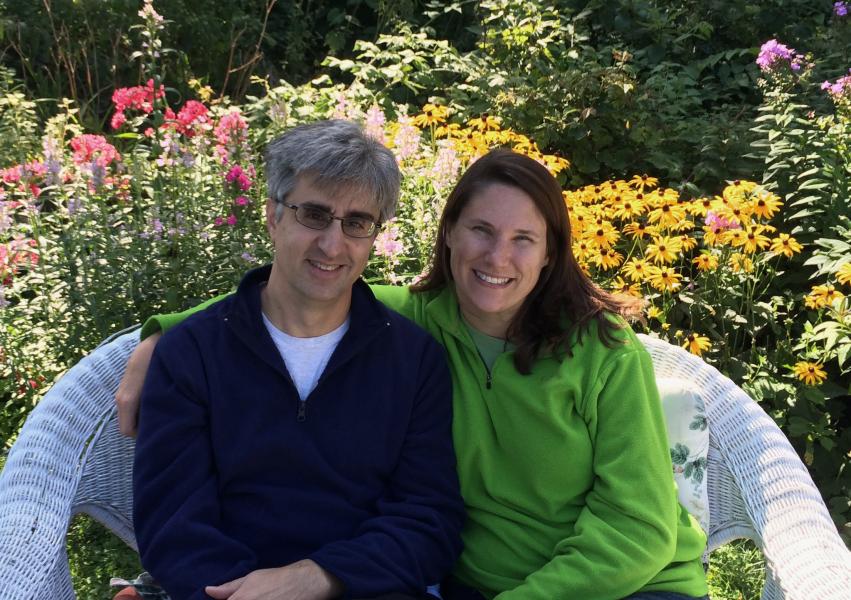 Len Vlahos and Kristen Gilligen
"This is a happy day for Tattered Cover and ensures the future of the store," Vlahos told Shelf Awareness. "It's a really positive thing." He praised Spearman and Back, who both have been fans of the Tattered Cover for many years. He noted that since beginning conversations with Back and Spearman in the spring, he and Gilligan became ever more impressed. "The more we talked, the more we knew it was a good fit," Vlahos said. "They're smart. They're good people. They really care about the city and bookstores." He added that Spearman and Back "really went to school on bookselling" in the past six months, learning about the business, researching different approaches, meeting other booksellers and more.
After graduating from Columbia University as well as Yale Law School and Harvard Business School, Spearman became a consultant at Bain & Company, working in a variety of industries, including retail and consumer companies. After leaving Bain, he worked with B.GOOD Restaurants, with headquarters in Boston, Mass., helping them expand. Then he joined Knotel, which provides flexible office space for companies, as head of expansion & landlord partnerships.
Concerning the store becoming the largest Black-owned bookstore in the U.S., Spearman told Denverite, "Personally, I'm a strong advocate of Black Lives Matter, and one of the things we will ensure is that Tattered Cover is always on the right side of history. The role of an independent bookstore with such a wealth of knowledge and information and community will be pivotal when we're seeing changes in the world. That's something that we're obviously going to monitor. The other thing that I'll say is that we're super-excited about at this point: Tattered Cover is now the largest Black-owned bookstore in the U.S. It's kind of a cool twist of events and something that we obviously hope to add to the dialogue that BLM and some of the other movements have begun."
Back graduated from the University of Pennsylvania and Harvard Law School, then began an MBA program at Cambridge University's Judge School of Business. But he dropped out after one term when his startup, Zoomcar, a car rental company in India, took off.
Vlahos stressed that the closing of most of Tattered Cover's stores for months because of the pandemic had severely hurt the company financially. There are four Tattered Cover stores in the Denver area, and another is opening next year in Westminster. Tattered Cover was undercapitalized, he continued, and needed an infusion of capital.
He said that the controversy in June about Tattered Cover's statement about Black Lives Matter was "not a factor in the decision to sell." In fact, he continued, while it was a "difficult moment and painful," it turned out to be "an incredible learning moment" that caused him and Gilligan to "reevaluate the business and policies and their approach to everything." He praised Prismatic, the organization that Tattered Cover brought in to help it devise an action plan.
Vlahos struggled recently with a bad case of Covid-19--he was forced to stay in isolation for 20 days and hospitalized for five days. He is still weakened and easily winded, but getting better every day, he said. Thankfully, Gilligan and their children did not come down with Covid-19.
Vlahos will stay on at Tattered Cover through June, helping with the transition and the opening of two new locations--the one in Westminster and the move of the lower downtown store to McGregor Square. Other than that, he said, he and Gilligan know for sure they'd like to stay in Colorado but have no definite plans for the future.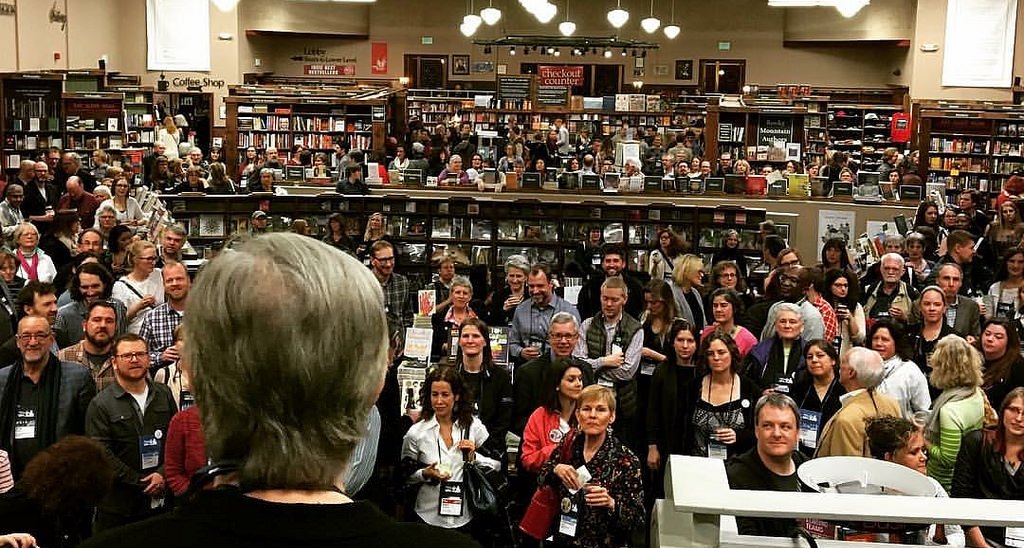 Joyce Meskis addressed the crowd at the kick-off party for Winter Institute 2016 at the Tattered Cover.
Vlahos and Gilligan bought the store from longtime owner Joyce Meskis in 2015. He was formerly with the ABA for 20 years, much of that time as chief operating officer, and then was executive director of the Book Industry Study Group. He is also a popular YA author whose work includes The Scar Boys, Hard Wired and Life in a Fishbowl. Gilligan also worked at the ABA, for 10 years, and was director of meetings and events.
Reaction to the purchase was positive. Heather Duncan, executive director of the Mountains & Plains Independent Booksellers Association, said that MPIBA is "delighted to welcome the Tattered Cover Book Store's new owners, Kwame Spearman and David Back, to our bookselling family. And we wish our friends and the store's previous owners, Len Vlahos and Kristen Gilligan, the very best as they move on to their next adventure. As a former longtime employee of the Tattered Cover, I am excited to see the talent and enthusiasm the new owners bring to the store. The Tattered Cover's almost 50-year history as a leader in the world of independent bookselling continues."
And Oren Teicher commented: "I've been working with Kwame and David on this for several months, and could not be more thrilled that it's all come together. Kwame and David represent a critically important next chapter for indie bookselling, and, I can say without qualification that their energy, enthusiasm, and business expertise is extraordinary. Whatever challenges lie ahead, their decision at this time to step up and buy the Tattered Cover gives me enormous confidence in the future of indie bookselling."
Founded in 1971, the Tattered Cover was a small, struggling 950-square-foot store when Joyce Meskis purchased it in 1974. Over the years, despite boom and bust cycles in Colorado, the growth of chain superstores and the advent of e-commerce and digital books, as well as the Great Recession, Meskis built Tattered Cover into a store of international renown.
---

---