Baltimore's Red Emma's Building New 'Forever Home'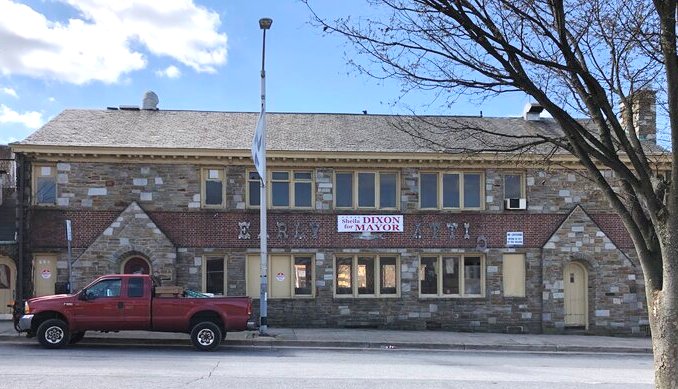 Future home of Red Emma's
Red Emma's, the worker-owned cafe and bookstore in Baltimore, Md., is "building a new permanent home" at the intersection of 32nd Street and Greenmount Avenue, in the Waverly/Abell neighborhood.
With the support of Central Baltimore Partnership, Central Baltimore Future Fund, the Baltimore Roundtable for Economic Democracy and Seed Commons, Red Emma's is purchasing the building at 415 E. 32nd Street and adjacent storefront at 3128 Greenmount Avenue. The plan is to renovate them to create a multi-level community coffeehouse, bookstore and social center.
"We're so excited to call Waverly our forever home," Red Emma's noted in a statement. "Many of us live in Waverly/Abell, and we are so excited to join the diverse community of businesses that are already here, like Urban Reads, Normals, Peabody Heights, My Mama's Vegan, Petes Grille, and Local Color Flowers and to work together reimagine a Greenmount avenue commercial district that is community-focused and meeting the needs of the neighborhoods that border it."
The current Red Emma's location at 1225 Cathedral St. in Mount Vernon "will continue to serve food for takeout, delivery and outdoor dining," the Baltimore Business Journal reported, adding that co-founder Kate Khatib said that Red Emma's, founded 17 years ago, is aiming to open the Waverly space in phases, with the first of those slated to debut by the end of the year. The entire project is expected to take between 18 and 24 months to complete.
Khatib added that the pandemic gave the collective of worker-owners an opportunity "to take stock of what we were doing and think about what do we want to look like when we come back.... Where we landed is that our current location is a beautiful space that we have loved being in, but it's really designed and geared for being a high-volume restaurant. It's designed to be transactional; your goal is to move people through as quickly as possible so you can turn the tables. Our intention has always been to be a community space that encourages people to stay and linger and meet new friends and make connections, and we felt like we just weren't able to do that in the current location."
---

---