Another Happy Jubilee: Cannon Beach Book Co. at 25
From 1 p.m. until closing at 9 p.m. yesterday, Valerie Ryan celebrated the 25th anniversary of the founding of
Cannon Beach Book Co.
in Cannon Beach, Ore., by serving cake and champagne to customers and visitors. "But we won't have jugglers or clowns," she commented to
Shelf Awareness
not long before the party was to begin. "After all, it's a bookstore!"
In fact, Ryan cheerfully called Cannon Beach Book Co., which stocks 14,000 titles, "very elitist. We have lots of literary fiction and literary nonfiction. We specialize in excellent children's and mystery titles. We have history, biography, a huge Penguin Classics section, a really good collection of cookbooks and a little bit of mass market beach read stuff in front." Regional and travel titles focus on the area, and travel memoir is one of Ryan's favorite categories. The store does not, however, carry "supermarket, science fiction, fantasy and computer books," she said. "It's the kind of store that when people come in, they say 'I've never seen these books before.' It's not that the books don't exist in other stores; it's the way we display and merchandise them. People get a chance to see them because we think they're special."
The store's "quirky" taste is exemplified by what Ryan called the "obsession display," two shelves of books "we particularly like and admire" that deal with subjects in a "deep and narrow" way. Among the titles: Mark Kurlansky's
Cod
and
Salt
,
Quinine
by Fiammetta Rocco,
Vanilla
by Patricia Rain,
Cannabis
by Martin Booth and
Coffee
by Antony Wild. You get the idea.
The store also carries sidelines, but "only a few," Ryan said. They include greeting cards, Putumayo music, Kikkerland Design's Moleskin journals and FunSpecs's "spiffy reading glasses."
Current store bestsellers include
The Kite Runner
by Khaled Hosseini,
The Working Poor
by David K. Shipler ("the same genre as
Nickel and Dimed
but slightly different"),
The Sewing Circles of Herat
by Christina Lamb,
The
World Is Flat
by Thomas L. Friedman and
Collapse
by Jared Diamond.
Among books Ryan has read recently and praises are
Memory of Running
by Ron McLarty ("the hero-protagonist is as interesting as the guys in
Confederacy of Dunces
and
The Shipping News
") and a galley of
The Highest Tide
by Jim Lynch, a September Bloomsbury title ("for people who liked
Peace Like a River
or Kent Haruf").
About 80 miles northwest of Portland, Cannon Beach has just 1,200 residents year-round, but draws many tourists and second-home owners from Portland as well as around the world. Summer is the big season for the store.
Cannon Beach Book Co. does few traditional signings and autographings, although Ryan has found that "on a busy Saturday, putting an author in the middle of the back room with a sign on the window and an ad in the paper can sell some books."
The one major event that has worked well is intended to draw traffic at a particularly quiet time of the year. The Midwinter Mystery Weekend, in its third year, is held the last weekend in January and features six to eight authors and a major dinner speaker. From Friday evening to Sunday morning, there are a cocktail party, signings, a banquet and q&a session. This year's Weekend featured Ann Rule; next year Steve Martini will be the star guest.
Although the store's been around a quarter of a century, technically Ryan has not. In 1980, with John Buckley, she bought a 650-sq.-ft. bookstore and renamed it Cannon Beach Book Co. "It was one of those charming beach stores with a potbelly stove in the corner and as cute as a basket of kittens," Ryan commented. In 1984, Ryan sold her share to Buckley and moved back to Seattle, where she had several stores and did freelance publicity, writing and reviewing. (In 1992, while Ryan was away, Buckley increased the size of the store to its present 2,000 square feet.) In 1995, she bought Cannon Beach Book Co. from Buckley and has run it ever since.
Cannon Beach Book Company is located at 130 N. Hemlock, Suite 2, Cannon Beach, Ore. 97110; 503-436-1301.
Ryan: "After all, it's a bookstore!"
---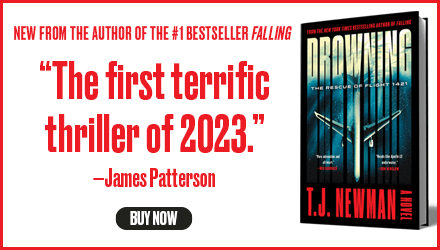 ---