New Owner for Back of Beyond Books in Moab, Utah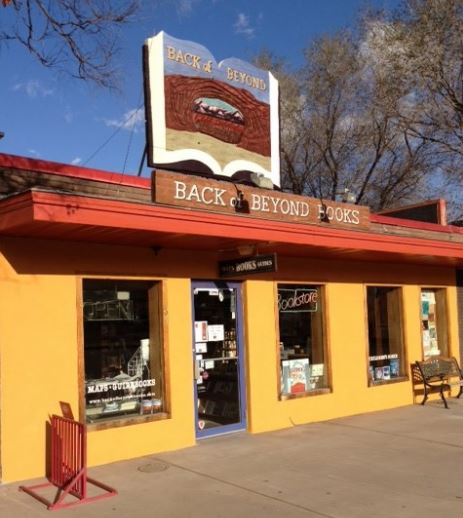 Back of Beyond Books, Moab, Utah, which was put up for sale last fall, will soon have a new owner. The Sun News reported that former Moab city manager David Everitt anticipates closing on the sale in May and taking over operations from longtime owner Andy Nettell.
"I'm really looking forward to being part of the Moab community from this vantage point," said Everitt, who treasures the atmosphere of the store as it is and has no plans to change it. "I love the feel of the place, I love the mission of it. You can almost feel the sand under your feet when you're in there--you know you're in Moab when you go into that bookstore. And I know there's a sense of that both for locals and for visitors."
Nettell said he knew he wanted to wait until the right buyer came along--someone who would carry on the spirit of the store--and is pleased to pass Back of Beyond to Everitt. Nettell plans to focus on his and his wife's new business, Stellar Books and Ephemera, trading in rare and antique books as well as items like photographs and journals.
A Florida native, Everitt first came to Moab in the 1990s to work as a volunteer ranger in Arches National Park, where Nettell, also a ranger, was his supervisor for a time. Everitt later worked for Nettell again at Arches Book Company, a local bookstore that once coexisted with Back of Beyond. And, Nettell noted, he was always a customer of the store.
"He's got so many ties to Moab, both professionally and personally, that it seems really perfect to me," Nettell said. "If we'd written a script, it's about spot-on."
Moab has "always been the landscape that I've felt the most at home in," Everitt observed. After leaving Moab City, he had served as an interim administrator for San Juan County and then worked in Park City, but he saw the Back of Beyond sale announcement as an opportunity to make a life change.
"It's a great way to be able to come back to Moab. I turn 50 this year and it's time to seek a little bit different balance in life," he noted. "There's a really great group of employees that are making the store what it is today. It really is just its own community institution... the people that are working there give it that feel."
He plans to spend a lot of time in the shop, learning the ropes and greeting customers: "I'm looking forward to that--it will be fun. I know that I don't know things--I know I have a lot to learn, no question." But Everitt said he sees that awareness of how much he has to learn as a strength, and trusts that the experienced store employees will help him grow.
---
---