Little Visioneers Comes to Southern California
Little Visioneers, an independent bookstore focused on the work of women writers, has started hosting pop-up appearances around Los Angeles and Orange County, Calif, after debuting as an online bookstore earlier in the pandemic.
Owner Bridgitte Jackson-Buckley does a monthly pop-up at the Del Amo Fashion Center's outdoor grotto in Torrance, Calif., and last Sunday set up shop at the Modern Makers Mart in Yorba Linda for Mother's Day. Her next appearance, scheduled for May 21, will be at the KJLH Women's Health Expo at the Long Beach Convention Center in Long Beach.
Her inventory consists exclusively of books by women, with a lean toward memoir, fiction and nonfiction. There is also a "slightly metaphysical, spiritual slant," which Jackson-Buckley said is a reflection of her own interests. She does carry some children's books, and has a "dynamic duo" list of titles that were both written and illustrated by women.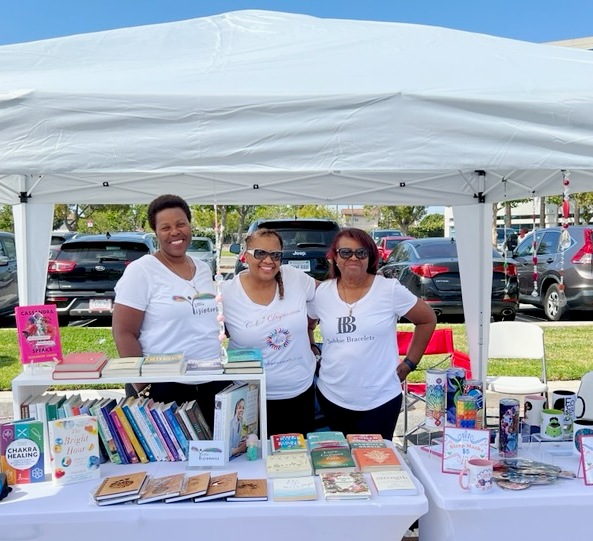 Bridgitte Jackson-Buckley (l.) with Maria Sellers and Bobbie Butler.
"The point is to really celebrate and highlight the indelible contribution of women to the literary world," said Jackson-Buckley, who has a background as an author and educator. Recently she started carrying a variety of handmade gift items such as bracelets and journals, all sourced from local women entrepreneurs and creatives. Those highlight "the creativity and artistry of women."
In 2018 Jackson-Buckley published her first book, The Gift of Crisis: How I Used Meditation to Go from Financial Failure to a Life of Purpose. Between the book's publication and the start of the Covid-19 pandemic in 2020, she was trying to get her foot in the door with appearances at book festivals and on author panels, "mostly unsuccessfully." Then the shutdown took place, in-person book events were canceled and she had some time to "sit and think."
It occurred to her that her love of books and passion for sharing information about books was "always at the forefront of what I'm doing," and that opening a bookstore of her own would give her a space to "host authors I've met and tell people about wonderful books they may not know about." She continued to vacillate on the idea, until the murder of George Floyd in May 2020 provided a "devastating" reminder that "life is so fleeting," and "you need to use your time doing what you love and what calls to you."
Jackson-Buckley also drew inspiration from a quote posted on director Ava DuVernay's Instagram feed, which read: "Stop waiting for a door to open to follow your passion. Build your own door, then walk through with your own creative aspirations and accomplishments and hold it open for those behind you."
She decided to not waste any more time waiting for a door to open and started working toward making her bookstore a reality. Initially she planned to have a bricks-and-mortar store, but at that point in the pandemic, that was "not happening." In-person events were still on hold, which precluded doing pop-ups, so she launched Little Visioneers as an online store. She explained that the name comes from the fact that "we all have little visions for ourselves, our lives, our communities and the world at large," and little visions are the "small beginnings from which great things can come."
Jackson-Buckley reported that her pop-up appearances have been very well received so far, and she added that she would still like to open a bricks-and-mortar store eventually, which would give her a space to host author readings and other events. --Alex Mutter
---

---