Banned Books: An Overview from NCAC's Chris Finan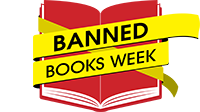 Banned Books Week began yesterday, with more urgency than in many past years because of the wave of efforts to ban books in libraries and schools, mainly by right-wing groups and politicians.
A range of organizations, including the American Library Association, PEN America and the American Booksellers Association, are conducting Banned Books Week campaigns, and thousands of bookstores and libraries across the country are highlighting banned books new and old, as well as the many unusual new ways to ban books.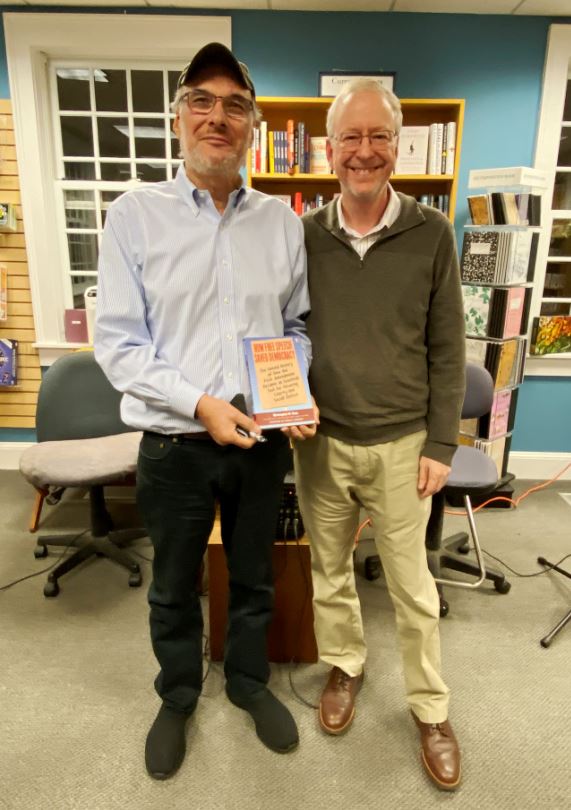 Oren Teicher and Chris Finan at Norwich Bookstore last week.
In a well-timed appearance at the Norwich Bookstore, Norwich, Vt., last Thursday, Christopher M. Finan, executive director of the National Coalition Against Censorship and author of How Free Speech Saved Democracy: The Untold History of How the First Amendment Became an Essential Tool for Securing Liberty and Social Justice (Steerforth Press), in conversation with former American Booksellers Association CEO Oren Teicher, provided an overview of current book banning trends. Finan noted that he's been fighting censorship for 40 years, "and this is the worst it's been in 40 years, and we've seen some bad times."
This is "the longest and maybe the biggest" such effort to censor books, and it is more difficult to battle than previous efforts such as the Patriot Act and banning Judy Blume titles, primarily because it's occurring in so many places and because of social media. Finan noted that "ironically," while social media has made it easier for people to speak, "it's made it easier for people who are enemies of books to speak and organize."
That's a major reason book challenges have increased from a recent average of 300 to 400 a year to almost 800 last year. In addition, the number of books being challenged has "radically expanded," from 500 books in 2019 to 1,600 books in 2021. The kinds of titles targeted in this latest censorship wave are books about race and racism and GLBTQ titles, although old targets--books that are open about sex and include "bad words"--are still resonant with those on the right. Those who fight censorship and teachers and librarians feel "overwhelmed" and "we're on our heels," he continued.
Still, he is confident that "we will win this battle," which will take time in the same way that previous anti-censorship battles took some time to organize and have an effect. Already there are signs of people pushing back against censorship, from parents getting up at school board meetings "and taking their life in their hands" by speaking up to kids organizing banned book clubs off campus and numerous local and regional groups forming. For example, he cited several new activist groups in Florida, "the belly of the beast" for censorship efforts: Cuban American Women for Democracy, which is speaking out on Spanish-language media; Families Against Book Bans, now being organized; and the Florida Freedom to Read Coalition. Unlike previous anti-censorship efforts, such as battling the Patriot Act, which was a federal law and needed a national response, the current initiatives are mainly taking place in state and local venues.
He also noted there are groups on the left who oppose some books, protesting speakers at various book-related events as well as against publishing certain books. "I understand the world is full of hate and misinformation, and I get it," he said. "But the world would be a lot worse without free speech." And he emphasized that the current wave of book banning efforts on the right "is by many orders of magnitude larger" because it's led by Republican politicians who are running on fear about books "and they're getting elected." This is a change from previous censorship campaigns, which were supported by many Republicans but were not a central campaign issue.
Finan said he remains optimistic and concluded by saying, "I see progress, and we do win battles, and the war is still being fought. People are standing up; people are recognizing the danger.... We have to fight for free expression, and if we don't, we'll lose it. I am confident people will fight for it." --John Mutter
---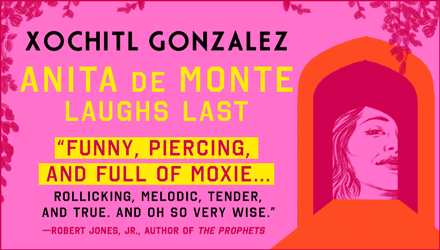 ---