Hurricane Ian Florida Update: 'This Storm Was Life-altering for So Many of Us'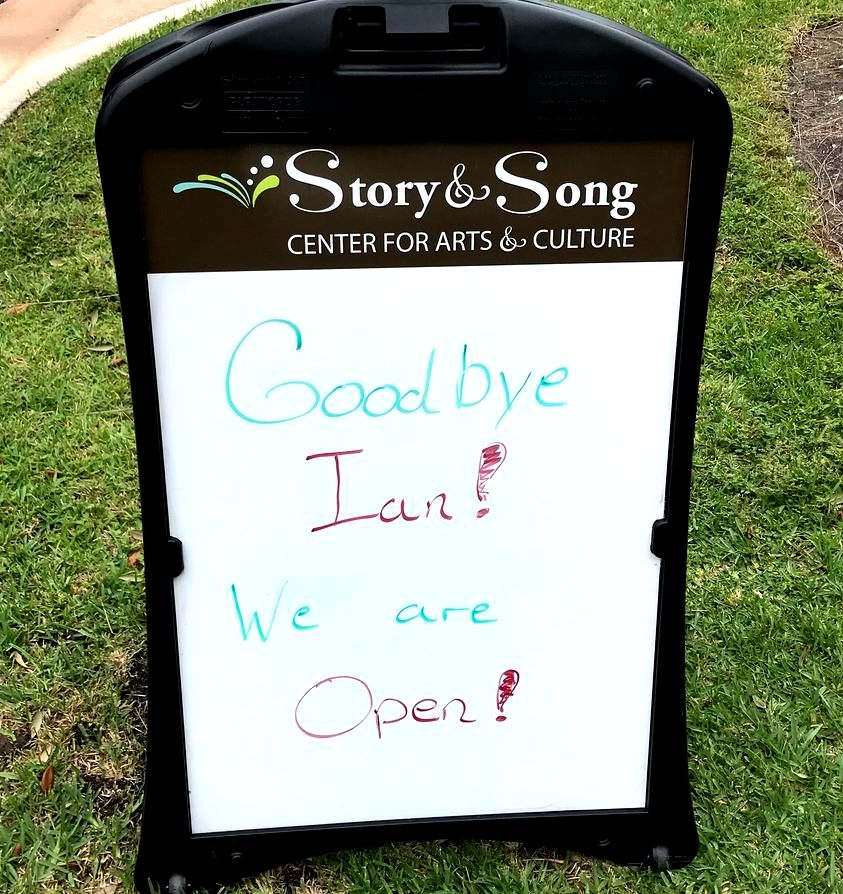 In the days since Hurricane Ian ravaged Florida with devastating force, the state's residents, including booksellers, have been dealing with power outages, wind damage and flooding as they sift through the wreckage left in the storm's wake.
Kaaren Johnson of the Family Book Shop in Deland said her bookshop "is up and running. Heavy flooding and lots of trees down in our area but the store never lost power and was open Friday and Saturday. Now the owners' house has no power so we may be staying at the bookstore full time!"
Many, but certainly not all, of the booksellers in Ian's path have been checking in on social media with updates about their current status, including:
Copperfish Books, Punta Gorda: "Hello friends! We finally have better connectivity and can communicate with you! How is everyone? We're shocked and saddened by the extreme destruction Ian brought and our hearts go out to everyone struggling. Thank you to everyone for reaching out with your concern. We've been able to see your messages intermittently. The bookstore is fine and thankfully all of our team is, too. We will check today to see if we have power and open as soon as we can. We'll keep you posted. This storm was life-altering for so many of us. Even if you 'just' had some property damage, even if you evacuated and didn't feel Ian's brutality, you have been and will continue to be affected. We're all now connected by this unprecedented experience. The stress is real and our mental health can suffer. Take time to rest and do something enjoyable for a few minutes each day. And please continue to help each other. We'll get through this."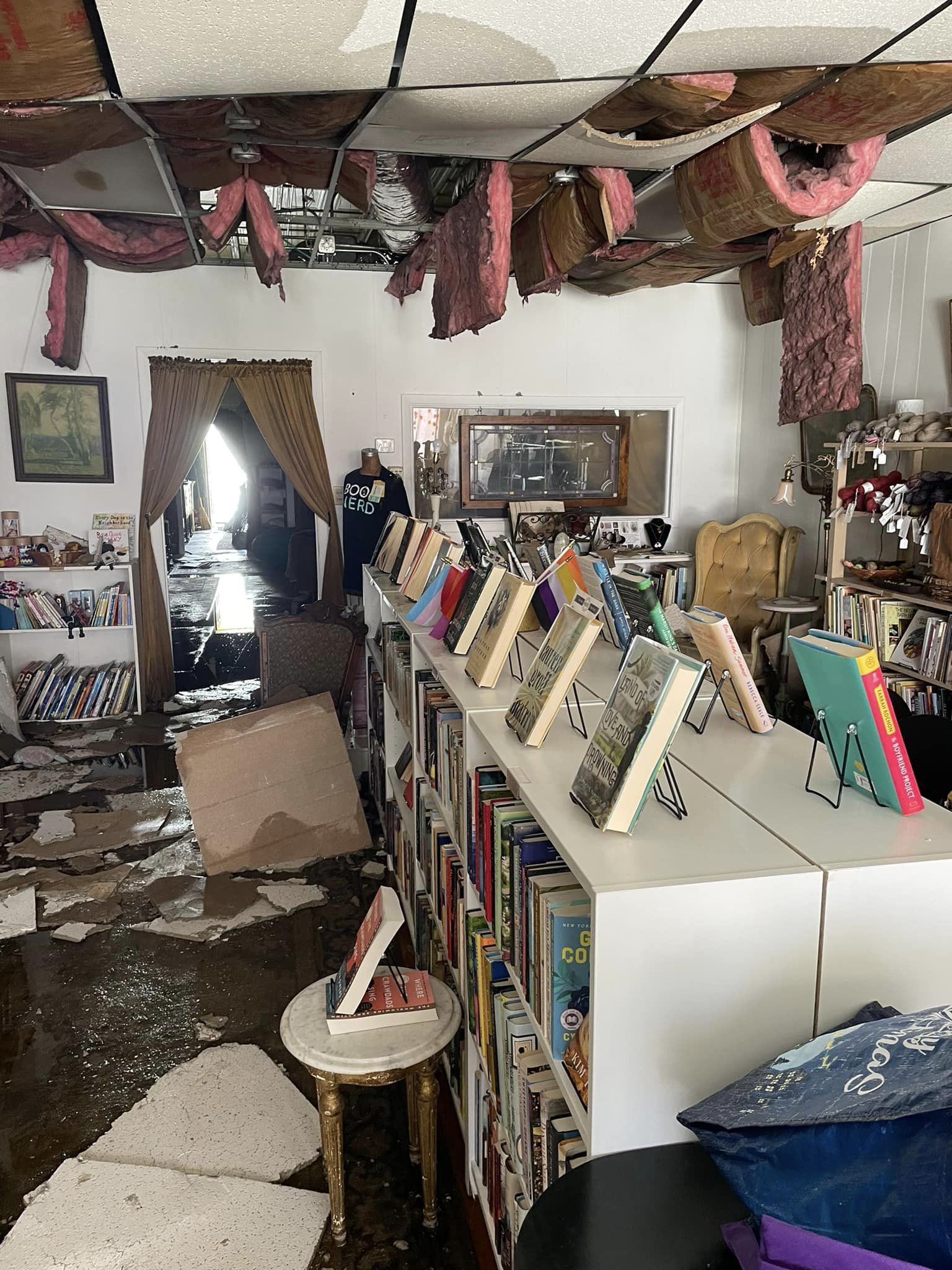 At Blinking Owl Books
Blinking Owl Books, Arcadia: "We are very sad to report we had significant damage from the hurricane and will not be open for a while. We will have some books and board games at a discount with slight water damage--we'll be posting pictures if anyone is interested. We'll keep you posted on our future location."
Gene's Books, Sanibel: "Wow, thank you everyone so much for your kind words and outpouring of love. Our entire staff are safe and off the island, but we are all reeling from the devastation. I don't have any concrete updates for you all as of yet, but as soon as I do I will make a post to this page. Hope all of you are safe and unharmed."
Macintosh Books, Sanibel: "What I know because of the grace and kindness of a friend. 2-3 of water and lots of instability. The photos appear misty because of the moisture inside the building. Sadly, the books look unharmed, but will be unsalvageable. I'll be surprised if it's considered structurally sound enough to tour."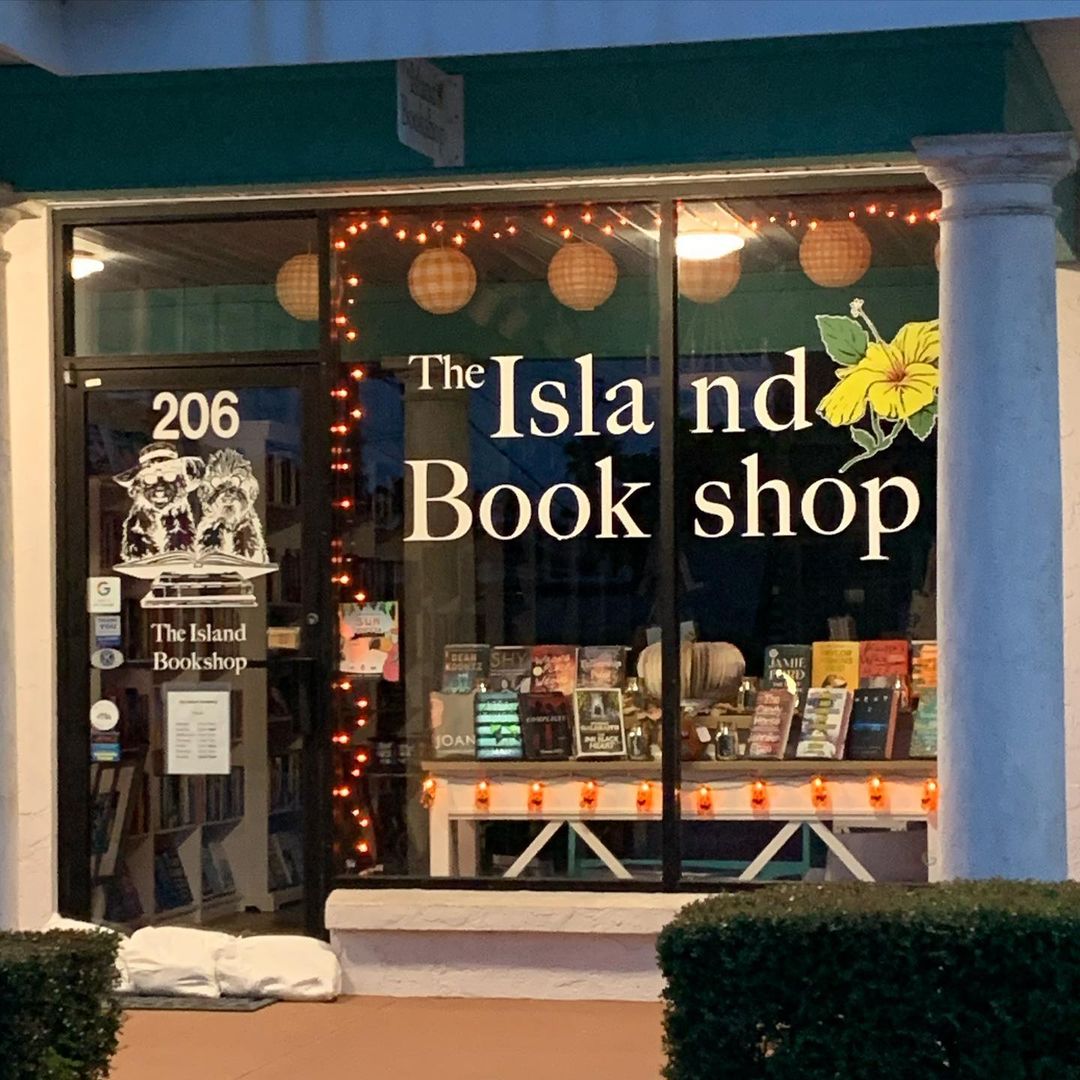 The Island Bookshop, Venice: "This is the photo we took right before we left town to evacuate for the hurricane. What a helpless feeling. A feeling I know we all shared in one way or another about our own lives. I want to report that the bookshop still looks the same. We are beyond grateful. We do not yet know when we will be able to open as we are working on our home which was not as lucky. But we are here. We are hoping and praying for swift recovery and rebuild of areas to our south that were not as lucky. Our communities will rebuild and come back stronger than ever. The kindness and generosity of friends, neighbors, and loved ones is beyond compare. We love our community and can't wait to see everyone again soon."
Portkey Books, Safety Harbor: "Not finished yet, but we're getting there! Still no power, but the weather is nice, the door is open, and my laptop promises me at least 5 hours of battery life. Feel free to drop by!"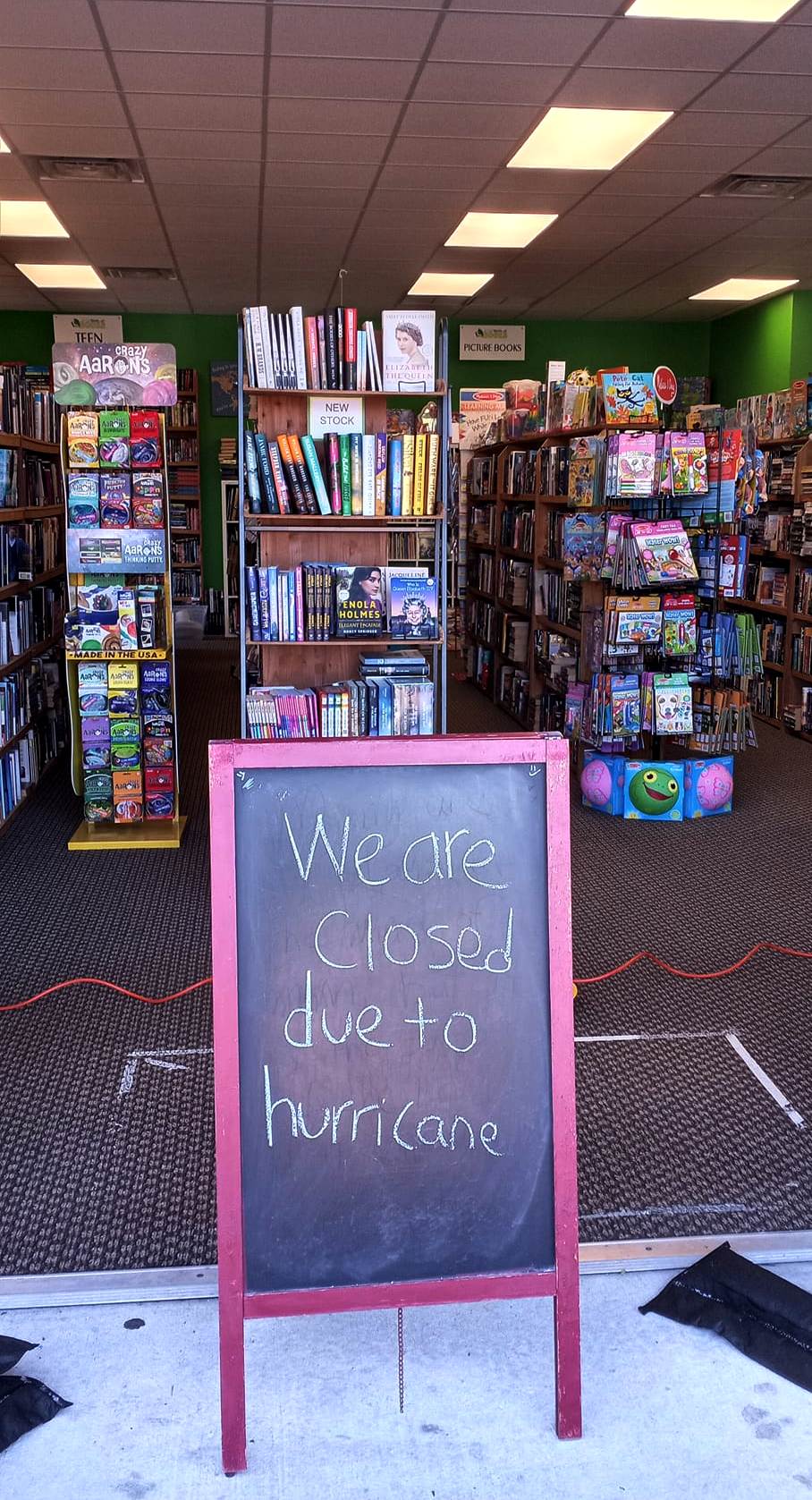 Walls of Books, Oviedo: "We finally made it to the store and are drying out carpets. The tough part is drying out under the bookshelves. Once everything is dry, we will start putting books back on the shelves. If you have special orders to pick up, email us or message us to make sure we are there for you to pick up your orders. Right now we have no Internet or phone service in the store. We hope that maybe in a few days we can be open for limited browsing."
Tombolo Books, St. Petersburg: "We are so fortunate to have our store still standing and our community still intact. We will be donating 10% of all sales this weekend (in-store and online) to World Central Kitchen] the amazing charity created by @chefjoseandres. If you are able, please consider donating to World Central Kitchen] @americanredcross or @feeding_florida. If you have canned goods, bottled water, or cleaning supplies please drop them with our friends at @stpeterunningco or @thebodyelectricyoga."
Story & Song Bookstore Bistro, Fernandina Beach: "Your local booksellers have survived unscathed! Come by today for books, bistro items, and more!"
Bookstore1, Sarasota: "If you need something to read to pass the time, we are opening today for our regular hours. Our internet is down, so cash only please... and we don't think our newspapers will be delivered. And we just realized our phones are down too. Stop on by!"
Femme Fire Books, Jacksonville: "Regular store hours will resume tomorrow! Thank you so much to everyone who has sent kind messages and checked in with FFB during the hurricane. The store faired just fine fortunately. My heart goes out to South Florida, Cuba, Puerto Rico, and all communities affected by this calamity. I hope everyone stays safe. Looking forward to sharing our books with the community this weekend."
---

---