Spare Sells 3.2 Million Copies Worldwide in First Week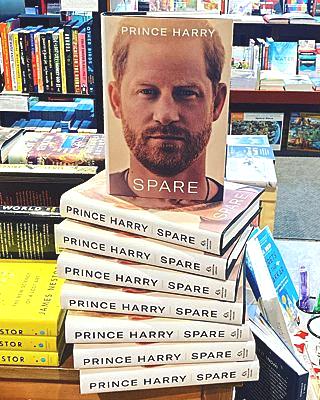 At Townie Books, Crested Butte, Colo.
Spare, the memoir by Prince Harry, sold more than 3.2 million copies in print, e-book and audio formats worldwide during its first week on sale, beginning January 10, Penguin Random House announced.
Spare had the highest first-day sales total for any nonfiction book ever published by PRH. The audiobook version of Spare set a record at Libro.fm for biggest one-day sales and first week of sales at the company. A Promised Land by Barack Obama held the record previously.
In the book's first week on sale, Random House sold 1.6 million copies in the U.S., while in the U.K. Transworld sold 800,000 copies. Some 215,000 copies sold in Canada, and 64,000 in Australia. In Germany, 100,000 copies of Spare were sold in German while another 15,000 were sold in English (mostly the U.K. edition in stores and U.S. edition online), according to Buchreport.
Published in 16 languages--with publication forthcoming in an additional 10 languages--Spare is a #1 bestseller in the U.S., U.K., Canada, Australia, Germany, France, Italy, Holland, Brazil, Denmark, Chile, Colombia, and Peru, PRH said.
---

---