Independent Bookstore Day Turns 10 With Celebrations from Coast to Coast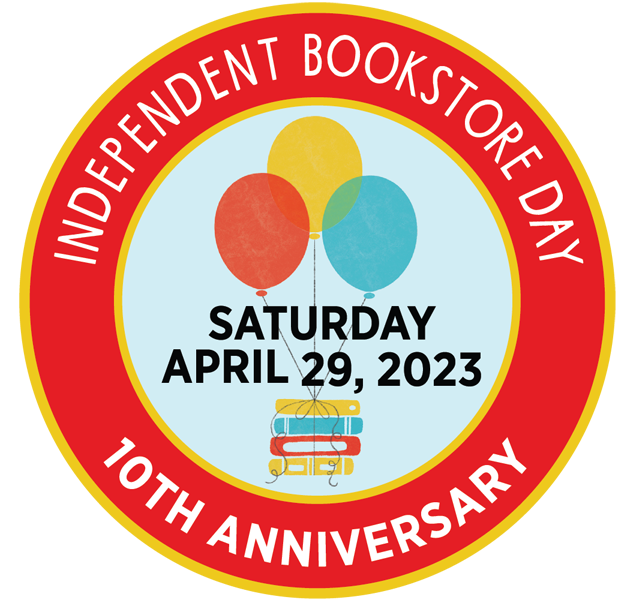 Nearly 1,100 stores participated in Independent Bookstore Day on Saturday, offering a range of imaginative events, sales, giveaways, and exclusive IBD products from publishers and others. Stores were busy, filled with very enthusiastic customers and booksellers celebrating the strength and vitality of indie bookstores. (See below!) Local press coverage was strong, and for many stores, it was among their best sales days of the year. This year Celeste Ng was IBD ambassador, and other groups, including American Express, supported the event.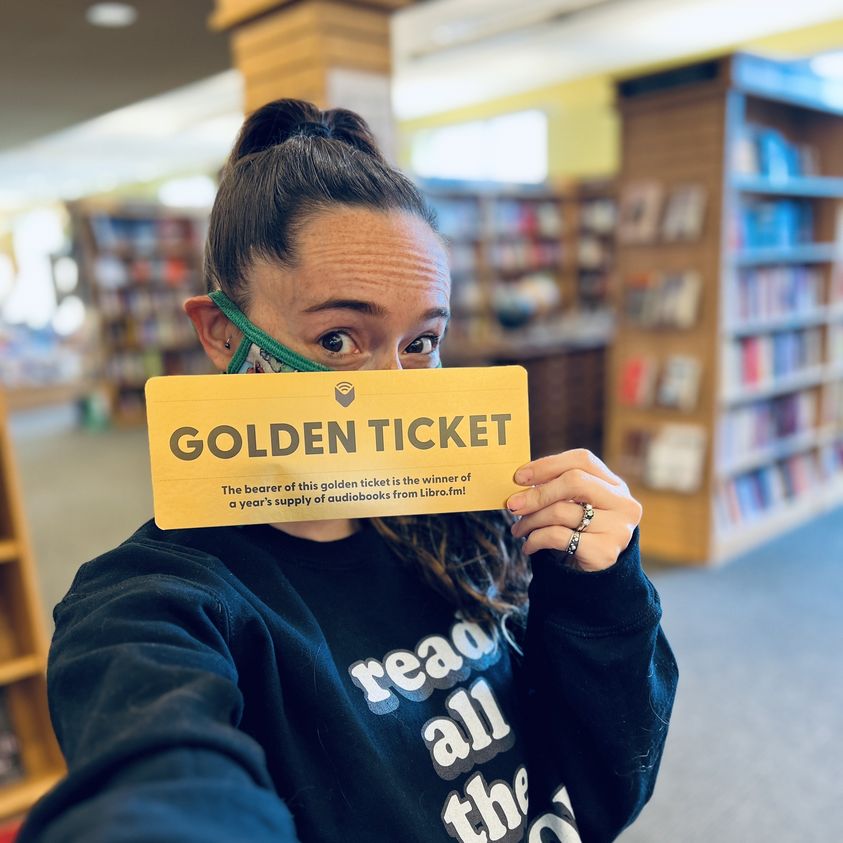 At Gibson's Bookstore, Concord, N.H.
To celebrate IBD, Libro.fm offered more than a thousand audiobooks for $5 or less, including In Praise of Good Bookstores by Jeff Deutsch, We Were Eight Years in Power by Ta-Nehisi Coates, Dress Your Family in Corduroy and Denim by David Sedaris, and Chokepoint Capitalism by Rebecca Giblin and Cory Doctorow. And more than 250 partner bookstores hid a golden ticket, good for 12 free Libro.fm audiobooks, in their stores for customers to find. Libro.fm reported that it had an 85% increase in new visitors compared to last year.
For its part, Bookshop.org offered free shipping all weekend.
To honor indie bookstores and IDB, the Independent Book Publishers Association created Spring into Indie Books, a three-day contest culminating on Saturday that awards $100 to one customer each at three indies. The Instagram campaign encouraged booklovers to visit their local store and post a picture showcasing the store with the hashtags #indiebookstoreday, #supportindies, @ibpalovesindies, and the store's hashtag. Entries will be selected by May 8.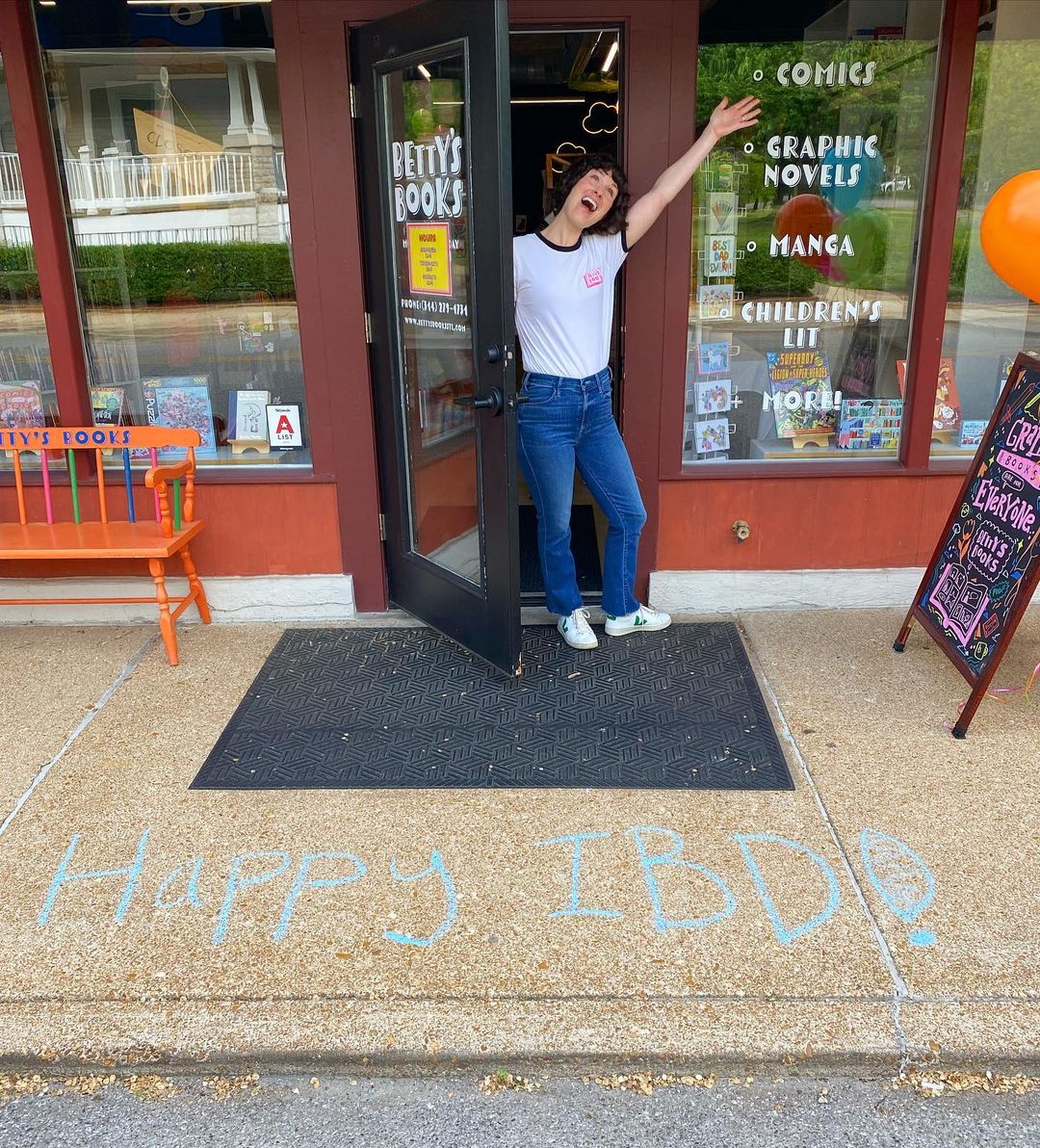 At Betty's Books, Webster Groves, Mo.
This was the 10th anniversary of Independent Bookstore Day, whose first iteration was California Bookstore Day, held May 3, 2014. The idea came from Pete Mulvihill, co-owner of Green Apple Books, San Francisco, Calif., and was adopted by the Northern California Independent Booksellers Association, which worked with the Southern California Independent Booksellers Association (in 2020, the two associations merged to create the California Independent Booksellers Alliance) to take it statewide. NCIBA executive director Hut Landon was an enthusiastic proponent, and as coordinator and, later, program director, Samantha Schoech built the event into the widely popular celebration it has become.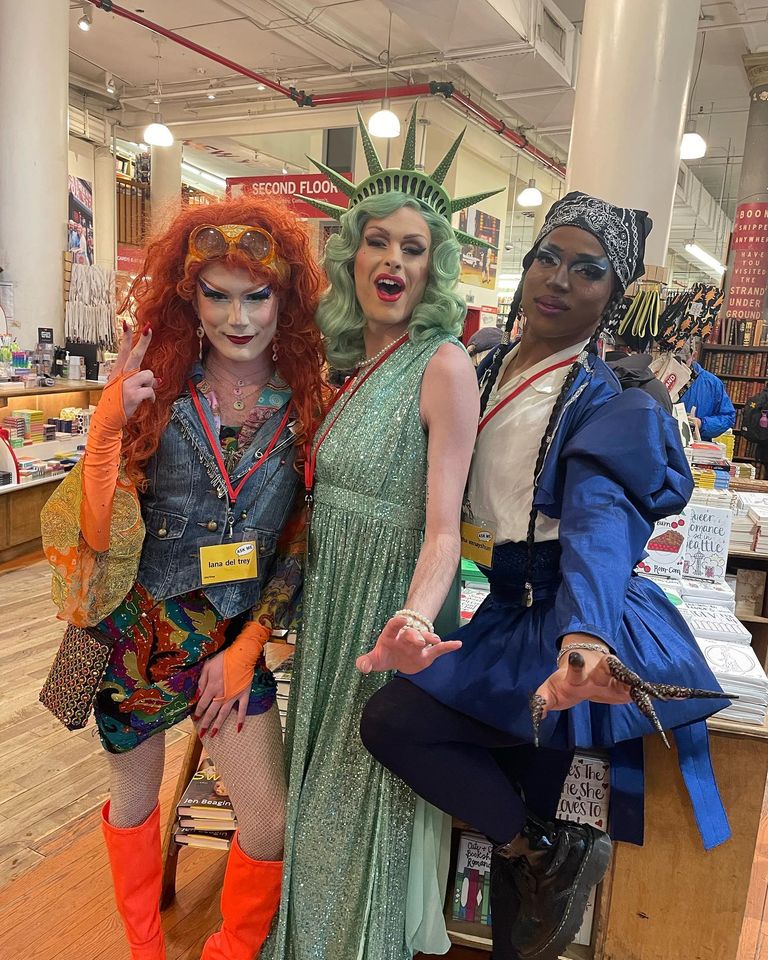 The Strand in New York City hosted a literary drag show.
Following a now-familiar template, in 2014 the 93 participating California Bookstore Day stores held a range of events, including author appearances and parties, and sold exclusive items such as a limited-edition Neil Gaiman story inspired by Sleeping Beauty; a signed and numbered (and doodled upon) edition of a George Saunders speech; a Don DeLillo stencil; Do You Smell Carrots?: A Joke Book for Kids, with contributions from Lemony Snicket, Jon Scieszka, Katherine Applegate, Jeff Kinney, and others; and A Heartbreaking Work of Staggering Genius tote bag.
The event was such a hit that other indies around the country wanted to be a part of it--and several indies around the country created their own local independent bookstore days. Soon all the regional independent booksellers associations agreed to make it a national event, and the first Independent Bookstore Day was held on May 2, 2015, organized by NCIBA and supported by the American Booksellers Association. The ABA took over management of IBD in 2019, and Schoech left IBD in 2021.
Here's to Pete Mulvihill, Hut Landon, Samantha Schoech, the NCIBA and SCIBA (now CALIBA), the other regionals, and the ABA for creating and expanding IBD!
---

---