Notes: Staffer to Buy Front Street Shop; Boku Takes on Reps
Peg Patten, a staff member for several years at Front Street Book Shop, Scituate Harbor, Mass., is buying the store from Pam Giovannini, the owner for more than 20 years. In a note to NEIBA members, Giovannini said she had put Front Street up for sale because her "husband has retired after 36 years of teaching; there are grandchildren and family with whom to spend time; some serious gardening to do; and health considerations that made it clear the time was right.

"These years have brought great pleasure, giving me the opportunity to be surrounded by books and book lovers, both in the shop and the industry and, indeed, the people are what has made every day so special," she continued.

Giovannini called Patten "qualified, dedicated and enthusiastic. She has brought energy and excitement to the shop as events coordinator, and has worked diligently in all areas of the shop's operation."

Front Street Book Shop is located at 165 Front St., Scituate Harbor, Mass. 02066-1314; 781-545-5011; frontstreetbookshop.com.

---

Boku Books, which makes high-quality journals and notebooks from recycled paper and alternative fiber, has hired Wendy Werris as national sales director. Werris, best known around here for her memoir, An Alphabetical Life, which was excerpted last fall in Shelf Awareness, has assembled a team of rep groups to cover the country: George Carroll/Redsides Publishing Services in Washington, Oregon, Alaska, Montana and Idaho; Book Travelers West in California, Nevada, Utah, Arizona, Colorado, New Mexico and Hawaii; Abraham Associates in the Midwest; Southern Territory Associates in the South and Southeast; and Chesapeake & Hudson in the Mid-Atlantic and New England.

Boku Books was launched in 2001 by printers Marian O'Brien and Keith Whitaker and has its headquarters in Eastsound, Wash. Until now, the company's sales efforts consisted mainly of appearances at many regional book and trade shows around the country.
Editor's note: Do check out Boku: its products are beautiful.
---
Congratulations!

This Thursday the Book Blues Bookstore, Marine City, Mich., begins a three-day celebration of its one-year anniversary with an evening wine tasting, seminar and signing with Joe Borrello, president of the International Taster's Guild. Friday the bookstore will host a book-related scavenger hunt and a reading and signing with children's author Aunt Judy whose new book is Chickens in the Know (McEwen). On Saturday, the store is hosting a signing with Roger LeLievre, author and editor of the Know Your Ships series. "We tried to plan a mix of events that will reach across all age ranges and interests," said Jacqueline Wilson, who owns the store with her husband, Todd.

The store stocks 12,000 gently used and new books and offers events and signings focusing on local authors, Great Lakes shipping, Michigan and area history. Marine City is on the St. Clair River northeast of Detroit on the border with Canada. "When we opened, we wanted to be more than just a bookstore," Wilson said. "We wanted to expose people to new and interesting things--whether it's a new author, a new genre or new music from the eclectic mix that we play. We also wanted to be a hub of community information. In just one short year, I think we've accomplished those things."

The Book Blues Bookstore is located at 102 Broadway St., Marine City, Mich. 48039; 810-765-8111. The web site is thebookblues.com.

---
Visitors to BookExpo America explored the future--both long-term and immediate--of books. But the Hay Festival in Wales last week revisited the past when it was announced that George Orwell's 1984 had been named the "definitive book of the 20th century."
According to Guardian Unlimited Books, which conducted a national online survey, the choice indicates that "Paranoia, propaganda and a state of perpetual war are the defining characteristics of the last century." The top 10 finalists included Joseph Conrad's Heart of Darkness and Bridget Jones's Diary by Helen Fielding.
---
The Book Industry Study Group, in cooperation with the AAP, is forming a Digital Standards Committee that aims to develop standards for online discovery, browsing, search and distribution of books and related content in digital form. The committee is beginning work this month, and all members of BISG are invited to participate. The committee will include experts from all parts of the U.S. and international book industries.

BISG noted that "a multiplicity of rules and interfaces, many of them proprietary, make it hard to exchange content simply and cost-effectively, and the lack of widely accepted standards make distributing digital content unnecessarily complex and inefficient."

The Committee will start work using a briefing paper, requirements and draft specification that were developed within AAP to serve as frameworks for further work.

For more information and to join the Digital Standards Committee, contact BISG executive director Michael Healy at michael@bisg.org.

---
Talia Ross has been promoted to library marketing director, adult trade, at Holtzbrinck Publishers. Since joining the company in 2004, she has built up the library department, which markets titles both from the company's adult publishers and its distribution lines to libraries.

Byron Echeverria has been promoted to associate director, academic marketing, at Holtzbrinck Publishers.
---
Derek Lawrence, who has experience publishing, as a rep and at Tattered Cover, is joining Fulcrum Publishing, Golden, Colo., as associate publisher in the fall and will, among other responsibilities, head sales and marketing.

"To hone in on its core product lines--Western culture, public policy, environment and lifestyle books--and to reach out to the special and direct sales markets in each of those areas," Fulcrum has made the following changes:
George Ecarma, eastern sales manager for Fulcrum for the past two years and formerly a buyer for Baker & Taylor, has been appointed national book trade manager.
Ingrid Estell has been appointed special and direct sales manager for the Western culture, environment and public policy lines. The company's western sales manager for the last year and a half, she earlier worked for Mountain Press Publishing and taught at Northern Arizona University.

The company has also made changes in its marketing department:

Karen Iker is joining the company as direct and special marketing coordinator. She has more than 10 years of marketing experience in the book industry, most recently with the Brookings Institution Press.
Melissa Ramey, who has been in publishing for 13 years and was previously marketing director at Fulcrum, has recently returned to the company to manage subsidiary rights.
Shannon Hassan, formerly a corporate attorney in the New York office of Arnold & Porter, is sales and marketing coordinator.
Erin Palmiter, a recent graduate of the Denver Publishing Institute, is media coordinator.
Michelle Baldwin remains events coordinator.
---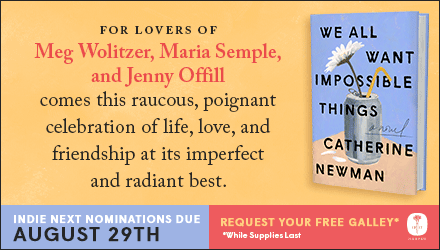 ---