Northeast Flooding Update: 'Forecast: Not Good for Books'
The Northeast has been hit hard by record-breaking rain this week, triggering catastrophic flooding in many areas, especially parts of Vermont where several indie booksellers have been checking in on social media with updates, including: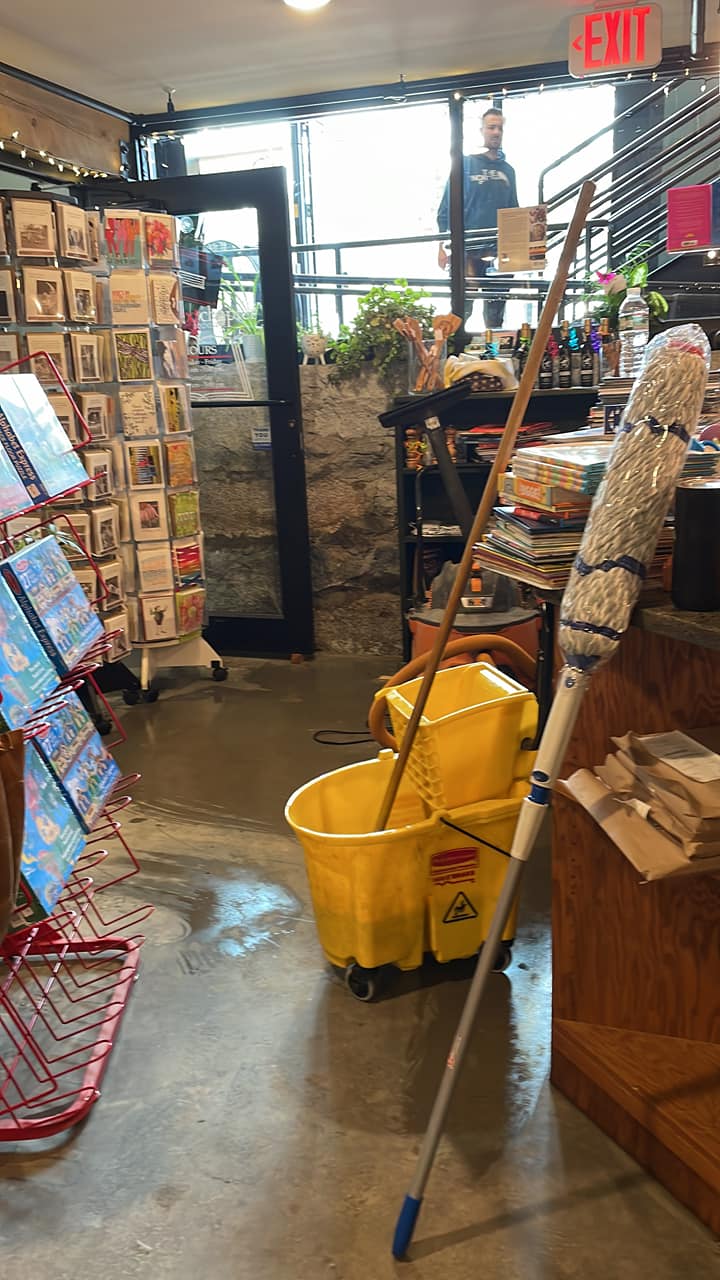 At Next Chapter Bookstore
Next Chapter Bookstore, Barre: "This is how our building looked when I left on Monday. We will be closed Tuesday, and until we can assess and clean up the damage..... First Fema counselor assigned. Stay tuned...."
Bear Pond Books, Montpelier: "Forecast: not good for books. We're now closed until further notice. Take good care y'all. And thanks for the offers of help. Check on your neighbors. See you soon.... Our back door at 12:30 pm Tuesday. The water is receding (you can see the high water line!) but we can't get inside yet to assess the damage. Thank you for the outpouring of love and offers of assistance we've been getting! We'll keep you posted on clean up efforts and when we'll be able to open again. It's a tough day for MontP but we know our community is behind us!.... [This morning] "Irony, the photo. We got inside and... it's not great."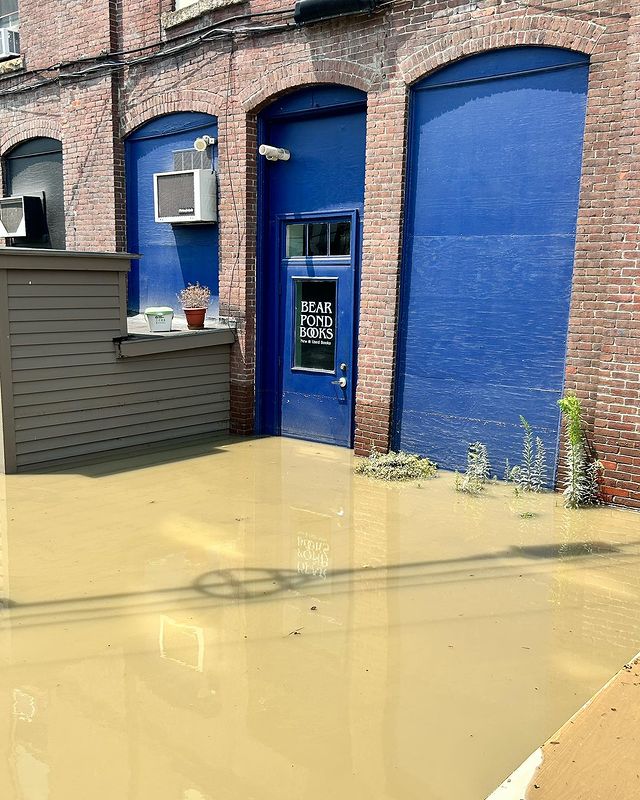 At Bear Pond Books
Bridgeside Books, Waterbury: "Event postponed and short hours today, mostly just to get some businessy stuff done. Our Selectboard is holding an emergency meeting at noon to discuss how to mobilize and address the flooding and devastation, so we are awaiting info on an organized effort. Much of the village is underwater, lots of businesses and homes are damaged. Please be careful, help your neighbors, let emergency crews do what they need to do. We hope all our fellow Vermont bookstores were able to save their books and stay safe."
The Galaxy Bookshop, Hardwick: "Hi folks--we will be closed today due to road closures. We hope you are all safe. Hazen Union is open as a shelter for those who need it."
Norwich Bookstore, Norwich: "Norwich Bookstore is open Tues. 7/11 from 9 a.m. to 6 p.m. We have free wi-fi and power; if you need to charge your devices or just a place to hang out, we're here for you. Stay safe, folks!"
The Book Nook, Ludlow: "Stay safe out there. Book store is NOT open due to the flooding in Ludlow and Vermont."
Blair Books & More, Chester: "We will be closed today [Tuesday] with all the road closures and cleanups. We will reopen tomorrow at 11 unless otherwise posted."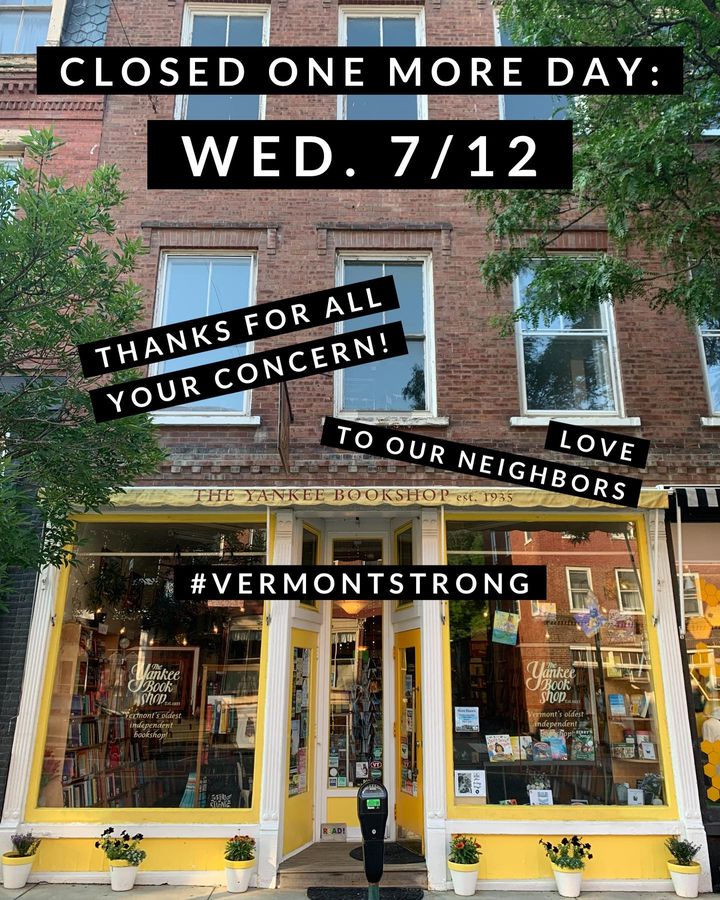 The Yankee Bookshop, Woodstock: "Route 4 has finally been made *mostly* passable, and we were able to come in to check out the bookstore today. The books are all okay, but our town continues to be without running water. We have some solid catching up to to (and we all need a bit of a rest) so we're going to be closed for one more day--tomorrow, Wednesday 7/12. All our fingers are crossed that water is restored soon and we can be back to business as (mostly) usual by Thursday. Stay tuned here for updates. Thanks for all of your concern--We can't wait to see our community again!"
Phoenix Books Essex, Essex Junction: "Several of our staff live in or near washed out places, so we're playing it safe today. Phoenix Books Essex is closed today, July 11. Thank you and stay safe!"
Bartleby's Books, Wilmington: "We were lucky at Bartleby's yesterday, but it was a close one. The river reached the bottom of the bridge and we thought it was coming our way. Our hearts are with so many Vermonters today. We dismantled a lot of the store to bring books to higher ground, so today we'll put it back together. Depending on how long it takes, we will either open sometime this afternoon or tomorrow morning. Many thanks to the amazing crew that helped us yesterday! We are so touched by our friends in this community."
---

---