Notes: Harvard Book Store for Sale; Booksellers on NPR
Frank Kramer, who has owned Harvard Book Store, Cambridge, Mass., since 1962, is putting the store up for sale. In an announcement, Kramer, who is 66, said that he would like to move "into a new phase of his life" and plans "to stay connected to Harvard Square and books." He hopes to find a buyer "of like mind who loves books, who appreciates the iconic institution that he and two generations of dedicated staff members have built and who will continue the traditions and values that HBS represents to its many thousands of committed customers."

Kramer has no urgency about selling, saying, "It's all about finding the right person." The store is "healthy and vibrant," he emphasized, and is mainly run by general manager Carole Horne. Kramer has hired Walter Huskins of Ridge Hill Partners, a "boutique mergers and acquisition intermediary firm" in Needham, Mass., to represent the store. Huskins may be reached at 617-965-6177 or whuskins@ridgehillpartners.com.

Some 46 years ago, Kramer took over the store in his senior year at college, when his father, Mark Kramer, who had founded the store in 1932, died. Kramer decided to take the helm, he remembered, for "at least for a few years until I figured out what to do with my life."

As co-founder and co-chair of Cambridge Local First, he will continue to spend at least some time helping locally owned businesses grow and help Cambridge become a greener city.

---

"Novelist Henry James said the two most beautiful words in the English language were 'summer afternoon,' and what better way to spend a summer afternoon than with a good book," noted NPR's Morning Edition in its introduction to "Booksellers' Selections for Summer Afternoons," featuring picks by Rona Brinlee, The Bookmark, Atlantic Beach, Fla., Steve Shapiro, Rainy Day Books, Fairway, Kan., and Lucia Silva, Portrait of a Bookstore, Los Angeles, Calif.

---

Archie Kutz "thought running a bookstore in his hometown of Brockport was worth a try" in 1972, according to the Democrat & Chronicle, which profiled Lift Bridge Book Shop, Brockport, N.Y. Thirty-six years later, Archie and his wife, Pat, are still going strong.

The paper wrote, "In a time when big box bookstores have crushed many independent sellers, Lift Bridge continues to survive, the Kutzes say, partly because of the State University College at Brockport."

"Our major leap was when we started doing (text)books for the college," said Archie. And Pat added, "Being located in a college town . . . means people read and buy books."

As to their basic survival strategy, Pat summed it up succinctly: "Book sellers are very inventive and enterprising."

---

In its profile of the Globe Corner Bookstore, Cambridge, Mass., the Boston Globe reported that as summer nears, "the aisles of the landmark seller of maps, guidebooks, and other aids for the traveler fill up with would-be adventurers planning for summer voyages to faraway lands. What they may not realize, however, is that the staff that so helpfully answers their questions is also busy gearing up for an annual migration of its own."

Travel experience is a "key hiring criterion" at the bookstore. The paper noted that booksellers Lisa Peterson and Simone Kearney, both experienced travelers, have big plans on tap this year as well.
"I travel, come back, save up money, then travel again," said Peterson, who fell in love with Croatia in 2004, has returned five times and will spend July there.
Kearney "plans to drop in on Ireland, France, and maybe a couple of new countries before touching down in New York City to start graduate school in the fall."

"We view our staff's travel as a huge benefit," said co-owner Harriet Carrier. "How can we say that we want all this travel and then not let them go?"

---
For the first time, the United Nations International Day of Peace, which was originated in 1981 by Pathways to Peace in conjunction with the United Nations, will be included on many 2009 calendars.

"The International Day of Peace has been around for 27 years; there are already thousands of events worldwide involving millions of people," according to Melvin Weiner, director of sales and marketing, Sellers Publishing, who initiated the idea of getting September 21 recognized by calendar publishers. "By adding this day to calendars worldwide and engaging the business world and media, we have a chance to really make a difference."

Weiner noted in a statement that participating publishers now include Mead (Landmark, Day Dreams, Amcal, At-A-Glance and Day Runner), Andrews McMeel, BrownTrout, Workman, Dateworks (American Greetings), Lang, Avalanche, Turner, Graphique de France, Barnes & Noble, Pomegranate, Abrams, Blue Mountain Arts, Willow Creek Press, Time Factory, Innovative Arts (formerly Portal), African American Expressions, Tide-Mark, Impact, Brush Dance, Amber Lotus, NMR, Zebra, Gladstone, Shearson, Trends and Sellers Publishing.

"Having the International Day of Peace on everyone's calendar means that its observance will now be a much more universal and mainstream activity," he added.
---
Mary Ellen Aria, who is seeking a buyer for Aria Booksellers, Howell, Mich., "wants a storybook ending for her six-year-old business. But she's waiting for someone to come forward for the lead role," reported the Livingston Community News.

"I used to think I was Wonder Woman, but I've learned that I'm not," she said. "I just can't fight the fight by myself anymore. . . . I have good memories. This is a great place to be, or I wouldn't have come to work as much as I did."

---

Jimmy Durante singing "I'll never forget the day I read a book" opened TodayShow.com's "Summer Page-turners" segment on 10 recommended summer reads from John Searles, the book editor at Cosmopolitan.

---
Karen Cooper has been named publisher, Adams Media. She was formerly group marketing director for parent company F+W Publications's U.S. book division, where she managed trade and specialty marketing for North Light Books, Writer's Digest, Krause Publications. Book division president Sara Domville said that Cooper in part would work with Chad Phelps, v-p, digital media, in launching Everything.com.

Cooper earlier was a marketer at SchoolCash.com, once part of Pearson, was managing director of Element Children's Books, where she launched its U.S. program, and worked in the children's group at Penguin Putnam. She is also the author of two nonfiction YA books, What a Girl Wants and DIY Style, published by Chicken House and distributed in the U.S. by Scholastic.
---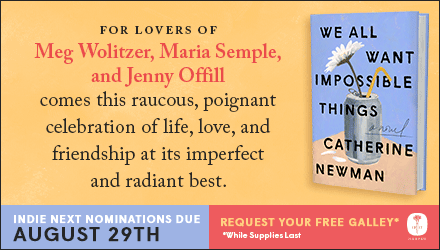 ---