Notes: Saving Wordsmiths; Selling Kindles
Wordsmiths Books, Decatur, Ga., has launched a "save our bookstore" fundraising campaign. "Beginning today, August 4th, and leading through a weekend fundraising event August 15th-August 17th, I am opening myself to your assistance," owner Zach Steele wrote on the bookshop's website. "The fact is that Wordsmiths Books is, as an idea and in execution, a great bookstore and it can be so much more given the chance. We are not fighting declining sales, nor are we fighting customer apathy, or even a lagging book market. We are fighting only the debt created by starting in the wrong location."

On his bookstore blog, Steele also noted that, in addition to the debt load accumulated at that more expensive original location, "we handled the sales for a large scale event recently that did not return the investment that we were required to pay up front. Such is the way, I could say, but the timing was incredibly poor."

---

How many Kindles has Amazon sold since its autumn 2007 launch? TechCrunch reported that "240,000 Kindles have been shipped since November, according to a source close to Amazon with direct knowledge of the numbers. Doing a little back of the envelope math, that brings total sales of the device so far to between $86 million and $96 million (the price of the device was reduced to $360 from $400 last May). Then add the amounts spent on digital books, newspapers, and blogs purchased to read on the device, and you get a business that has easily brought in above $100 million so far."

---

Saturday was a very good day for Breaking Dawn. Hachette Book Group estimates the fourth book in Stephenie Meyer's Twilight series sold 1.3 million copies in the first 24 hours after its midnight release, according to USA Today, which couldn't resist adding that "nothing competes with Harry Potter. Last July, Harry Potter and the Deathly Hallows sold 8.3 million books in its first 24 hours on sale."

---

The Philadelphia Bulletin profiled Baldwin's Book Barn, West Chester, Pa., and owner Tom Baldwin, who said, "When you put out something that is positive, it comes back at you when you give it heart."

---

A recent letter to the editors of the Washington Post called out "bookstore owners who may wonder why they're losing market share" with this suggestion: "I love books, and I used to love the look, feel and smell of bookstores. But now, with the exception of some independent bookstores that do discourage cellphone use, it's no longer fun to look for books in a bookstore. It's very hard to get acquainted with a book when there's a constant stream of people roaming by while yakking on their cellphones. . . . There are no cellphones to contend with when I shop for books on the Web!"

---

What not to eat. British celebrity chef and cookbook author Antony Worrall Thompson apologized for recommending the poisonous plant henbane, according to BBC News. In a Healthy & Organic Living magazine interview, Worrall Thompson said henbane was "great in salads." The magazine's website has issued an urgent warning that "henbane is a very toxic plant and should never be eaten."

"It's a bit embarrassing but there have been no reports of any casualties," said the chef. "Please do pass on my apologies."

---

Connecting the links. The University of Illinois Press blog directed readers to Mike Chasar's Poetry and Popular Culture blog, where he reprinted a piece, "Obama's Bitter Muse: Frank M. Davis," that had first appeared last April in the Iowa City Press-Citizen and the Des Moines Register. The essay explores the relationship between Frank Marshall Davis--poet, journalist and activist--and presidential candidate Barack Obama.
---

---

Be the first to have an advance copy!
How I Built This
by Guy Raz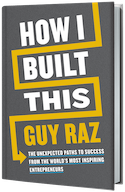 Award-winning podcast host Guy Raz has written the definitive guide for aspiring entrepreneurs eager to transform their business idea into a successful enterprise. How I Built This: The Unexpected Paths of Success from the World's Most Inspiring Entrepreneurs, named after Raz's popular podcast, features stories of start-up adventures and valuable insider tips from the founders of Headspace, Bumble and Slack, among many others. It belongs "on the start-up bookshelf next to such classics as The Hard Thing About Hard Things by Ben Horowitz and The Lean Start-Up by Eric Ries," says Rick Wolff, senior executive editor at Houghton Mifflin Harcourt, where in-house support for the book was universal. At a time when the world needs dynamic innovation more than ever, Raz's phenomenal storytelling skills will ignite in readers a desire to chase their own entrepreneurial dreams. --Shahina Piyarali


(Houghton Mifflin Harcourt, $28 hardcover, 9780358216766,
September 15, 2020)
CLICK TO ENTER
#
ShelfGLOW
Shelf vetted, publisher supported


---