Notes: Feds Look into Google Settlement, Deadline Moved
The Justice Department has begun an antitrust inquiry into the Google settlement with authors and publishers involving Google Book Search, according to the New York Times and Wall Street Journal.

The Justice Department has been in communication with some groups that oppose the October settlement between Google, the Association of American Publishers and the Authors Guild.

In another Google move, the federal court judge overseeing the settlement has moved the deadline for authors to opt out of the settlement to September from May 5.

---

In June, Barnes & Noble is closing its 28,000-sq.-ft. store in the Brookdale Shopping Center, Brooklyn Center, Minn., the Minneapolis-St. Paul Business Journal reported. The store opened in 2002.

The shopping center's vacancy rate is barely 50%, which David Deason, B&N's v-p of development cited as a main reason for B&N's decision.
---

The quest to add J.R.R. Tolkien's work to the e-book ranks "lasted six years, more than half as long as the author needed to complete his Lord of the Rings trilogy," according to the Associated Press (via USA Today).

"The Tolkien estate wanted to be absolutely confident that e-books were not something ephemeral," said David Brawn, publishing operations director at HarperCollins UK. "We were finally able to convince the Tolkien estate that the e-book is a legitimate, widespread format."

The AP added that while resistance to the format is diminishing, "you could still build a brilliant collection with the books that remain off-line. They include, most notably, the Harry Potter series, and countless other favorites: Catcher in the Rye and Catch-22; Lolita and To Kill a Mockingbird; Atlas Shrugged and Things Fall Apart; The Outsiders and Fahrenheit 451."

---
Reluctantly Pete Mulvihill of Green Apple Books, San Francisco, Calif., muses on the store blog about books that are better than their covers--and asks for examples. One pitfall of the discussion, he admits: "Maybe you don't want to unsell books . . ."
---
Midpoint Trade Books, the sales, marketing and books distributor, has begun a program under which interns write on a new blog, pressing digressions, about their experiences and books that interest them. The company said the contributors "are free to write what they want, say what they want and post what they want."

Midpoint said that the first intern, John Duda, a creative writing major at Brooklyn College, "expresses himself weekly on pressing digressions, speaking on a myriad of topics that range from news on our books to the book publishing industry as whole, all from the unique and unblemished perspective of a person brand new to book publishing. While learning the ins and outs of our industry, he will also be able to leave this internship with real life experience and something to show future employers."
---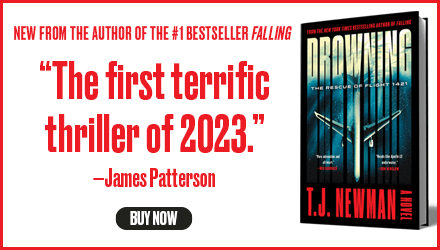 ---