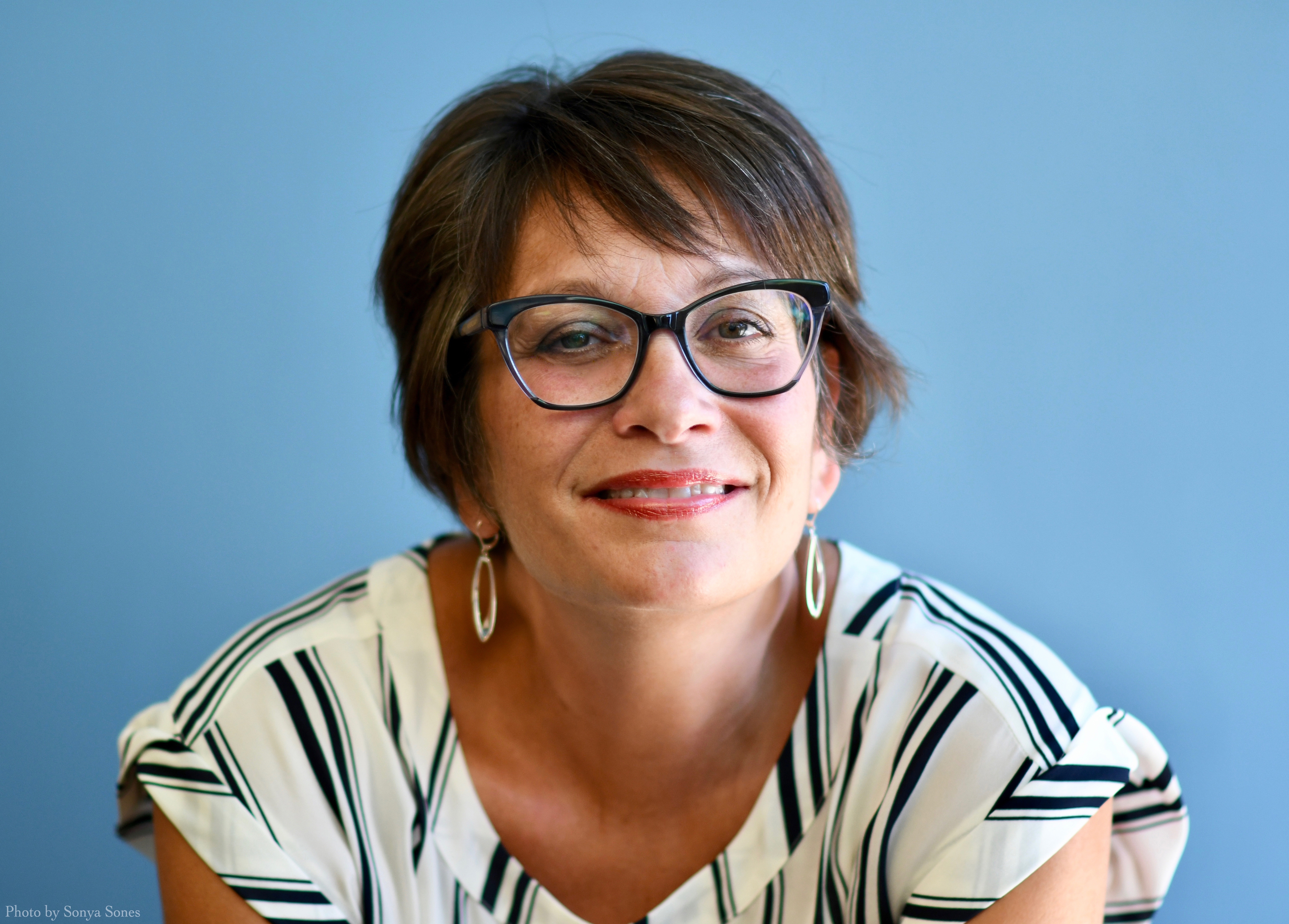 Meg Medina is the author of the Newbery Medal-winning middle-grade novel Merci Suárez Changes Gears. She also wrote the Pura Belpré Award-winning YA novel Yacqui Delgado Wants to Kick Your Ass and the picture books Mango, Abuela, and Me, illustrated by Angela Dominguez, which was a Pura Belpré Author and Illustrator Award Honor Book, and Tía Isa Wants a Car, illustrated by Claudio Muñoz, which won the Ezra Jack Keats New Writer Award. The daughter of Cuban immigrants, she grew up in Queens, N.Y., and now lives in Richmond, Va. Her new book, Evelyn del Rey Is Moving Away, illustrated by Sonia Sánchez, will be published by Candlewick on September 8, 2020.
What brought you to write Evelyn del Rey Is Moving Away?
I was thinking of my first friend, Evelyn, who lived two blocks from my apartment. Evelyn's family was Cuban like mine, so our families could communicate. We had almost identical apartments, too, right down to the plastic-covered sofas. We loved playing together. There were also differences: Evelyn lived with both her parents and her brothers, while I lived with my mom and my sister. We went to different schools. We were different races.
Inspiration came as I sat in on a workshop given by illustrator Shadra Strickland at the Highlights Foundation. It was about finding plots for picture books using the common problems of growing up. As we brainstormed, I started to see that losing a friend or having a friend move away could be the perfect fictional plot to add to my sweet memories of Evelyn.
Have you ever gotten separated from a good friend?
Oh, yes. As we grow up, we lose friends in all sorts of ways--sometimes to physical moves, of course, but sometimes the losses are more subtle. Our friends are assigned to different classrooms or find a new friend they prefer. Sometimes we outgrow shared interests. All of that happened in my life. There have also been the moments we could never have expected, like this latest--a pandemic--where we are forced away from our friends for extended periods of time. All of those separations unmoor us in some way, especially when we're young.
You write for a range of ages. Are there any tenets you bear in mind no matter the audience?
Kids have different lenses on the world at different ages. As a writer, I try to stay true to the concerns of each age group. What I always do, regardless of their age, is tell them the truth. Readers look to books to be entertained but also to make sense of themselves and what they're experiencing. It's crucial not to lie to readers about difficult experiences.
The way all of the items the girls use in their play slowly vanish into the moving truck was such a clever touch.
The world of someone who is between five and eight years old is the world of pretend. Boxes become boats. Measuring sticks are magic wands. Mud balls are delicious cakes. A day of pretending seemed true to a child's heart. I also saw that packing up a living space is packing up a life, in many ways. I wanted to have the girls continue in their world of pretend for as long as possible, until the packing up of this phase of their friendship was unavoidable.
What effect do you hope this story will have on young readers?
My greatest hope is that readers will have a chance to celebrate the friends who make them happy right now. I hope teachers and parents reading alongside their kids will help kids talk about how to be a good friend, how to love a friend and how to keep a friend even as we grow and change. --Jaclyn Fulwood