Hungry for the Wolf
This week saw the release of Glen Duncan's The Last Werewolf, which we covered in a Maximum Shelf--so don't worry, I'm not going to talk about the book again here. (Although I do recommend it.)
Partly because of this book's release, several people have asked me why I think we're all so entranced by vampires, zombies, robots, witches, werewolves, ghosts, et al. There are probably as many reasons as there are varieties of supernatural beings, but the one that leaps immediately to my mind is quite simple: contrast.
Years ago, I taught English composition, and the classic "compare and contrast" essay was one of my instruments of torture, er, I mean, teaching tools. I remember telling students that this form of argument was particularly effective because it mimics the process we all go through, whether choosing which car to buy or which course to take. But I also told them to remember that a writer doesn't have to convince herself of how valid a comparison is; she has to convince a reader.
Now, in fiction, writers are rarely trying to sell you something. Hahaha! Of course they are trying to sell you something: they want you to buy in to their premise. What's one of the fastest ways to make a character different? Make him magical. You might not read thousands of pages about a young English boy navigating his way through prep school, his best friends a wonk and a dork. However, give that boy a wand and faster than you can say "Wingardium leviosa!" you have the Harry Potter series--with its all-encompassing world.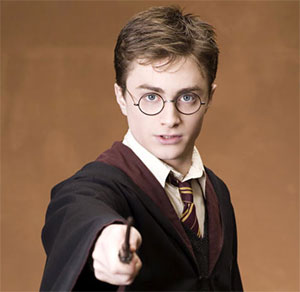 For the record, I read those thousands of pages, and thoroughly enjoyed each and every one. There are plenty other books about supernatural beings that leave me colder than Bellatrix Lestrange's heart, but that's okay; they might warm yours. I believe that that contrast is somewhat magical. --Bethanne Patrick