'Long May You Run'
I was in New York last week for the annual BookExpo America publishing extravaganza. It's an exhausting yet exhilarating overload of new and upcoming titles, a place where you can often spot trends. One that's picking up: books about musicians of a certain age. (So far this year: When I Left Home by Buddy Guy, My Cross to Bear by Gregg Allman, Bruce Springsteen and the Promise of Rock 'n' Roll and, in July, The Man Who Sold the World: David Bowie and the 1970s.) Here are some good bets for the fall--reserve your copies now.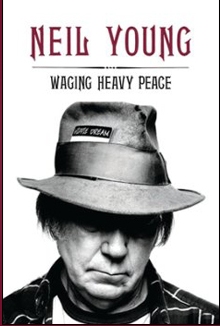 Waging Heavy Peace by Neil Young (Blue Rider, October). A memoir that is definitely not linear. Patti Smith said "It's intimate... like talking with a friend."
I'm Your Man: The Life of Leonard Cohen by Sylvie Simmons (Ecco, September). Simmons, a well-known name in rock journalism, had "unparalleled access" to the elusive singer/songwriter.
Who Am I by Pete Townsend (Harper, October). A candid memoir by one of rock's iconic performers (and erstwhile book editor); at 608 pages, it should be revealing.
Life Is a Gift: The Zen of Bennett by Tony Bennett (Harper, November). I know nothing other than this is a book by Tony Bennett; therefore, it will be wonderful.
A Woman Like Me by Bettye LaVette and David Ritz (Blue Rider, September). A classic soul singer, an R&B legend, LaVette has finally become as famous as she deserves to be.
Hello, Gorgeous: Becoming Barbra Streisand by William J. Morris (Houghton Mifflin Harcourt, October). The climb to fame, the formative years. Streisand before she became a legend.
Mick Jagger by Philip Norman (Ecco, October). Continuing the trend of big books, this weighs in at 624 pages, written by the author of Shout! (The Beatles) and John Lennon, among others.
Elvis Presley: A Southern Life by Joel Williamson (Oxford, December). Southern historian Williamson weaves the drama of Presley's career with the social upheavals of post-World War II. --Marilyn Dahl, book review editor, Shelf Awareness