Hello, Animals!
Animals are an evergreen topic for children's books. These perennial favorites act as child surrogates, beloved friends, comfort objects and educational tools. Here are some board books that introduce children to animals through a few different conceptual directions.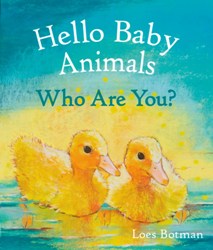 In Hello Baby Animals, Who Are You? by Loes Botman (Floris Books, $9.95), children can identify different animals and are invited to learn the special name for each kind of baby. The illustrations, in a soft, nearly pastel palette, allow each baby animal the chance to look indescribably darling on its identifying page. "I'm a wobbly foal, says the baby donkey," legs spread in an unsteady posture; "I'm a playful kid, says the baby goat," its expression a near smile as it is captured mid-leap.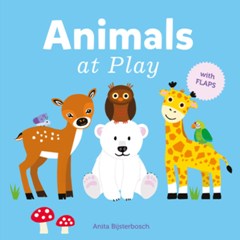 Anita Bijsterbosch places animals together in shared spaces in Animals at Play (Clavis, $14.95). All of Bijsterbosch's animals are brightly illustrated with a wide-eyed sweetness that is immediately endearing. On the left-hand page, the animals are depicted--Animals in the Jungle: parrot, elephant, giraffe, snake, lion--and on the right, a lift-the-flap shows the animals having fun together in the jungle. Other locations include the ocean, the woods, the farm and the garden.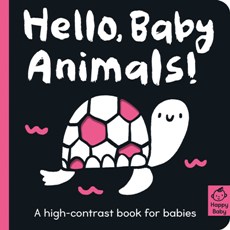 Amelia Hepworth and Cani Chen's Hello, Baby Animals! (Tiger Tales, $6.99) is designed to help the youngest of children engage with books. Since babies can see black-and-white images from birth, this title features high-contrast black-and-white art with fluorescent splashes of color on every page. Chen sketches every animal with thick black or white lines, and the pops of color show up as waves around a turtle, snowflakes around a penguin or flowers around a deer. Hepworth's simple text puts each animal in action, such as "Kitten purrs" or "Puppy plays." --Siân Gaetano, children's and YA editor, Shelf Awareness