Word of Mouth: Between Us
Earlier this week I spent some time in New York City, which is still the center of book publishing (even if there are other centers of literature, reading and writing... but that's another editorial). At one lunch, a publisher and I had an intense discussion about how that important and elusive thing, "word of mouth," happens.
"Word of mouth" can't be bought. It can't be planned for in pre-publication financial spreadsheets. It isn't easy to measure once it happens, either. But it is so important, still, to the book-release process that my lunch companion and I spent time comparing some of the places online where we think the word-of-mouth experience is best duplicated, as well as brainstorming ways that it might be amplified in the future.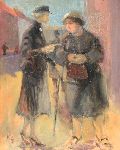 I'm telling you about this because it points up something quite wonderful and low-tech about publishing: despite e-books, digital media, bookstore closings and distribution challenges, one of the most important elements is still reader-to-reader contact, and a top New York publisher is still intimately and urgently concerned about fostering that contact.
The best part? We exchanged word-of-mouth recommendations, too, talking about books we were currently enjoying in book groups, on vacations and for work. Word of mouth connects all readers, whether they're in the biz or living far from the nearest bookstore--and we need to do all we can to keep it strong.
Readers know best, and to that end, I'd like to hear from all of you: booksellers, book-group members, solitary readers, parents, publishing colleagues. Write Bethanne@shelf-awareness.com, and tell me what kind of word of mouth is most effective for you personally and your ideas about how to take advantage of word-of-mouth power. I'll gather the best of those for a future editorial or article here. From our mouths to others' ears, as they say....