The Real Abraham Lincoln
The figure of Abraham Lincoln towers in our imagination. Daniel Day-Lewis's portrayal in Steven Spielberg's film Lincoln brought a fresh voice and personality to the man we think we know. A range of books, including the one the movie is based on, provide further depth and understanding of the 16th president.
The Hour of Peril by Daniel Stashower (reviewed below) recounts Lincoln's train journey from Illinois to Washington for his inauguration. Surrounded by advisers and bodyguards, he professed not to fear for his own safety even when greeted by mobs. But when Chicago detective Allan Pinkerton uncovered a plot to assassinate Lincoln as he passed through Baltimore, it took all the skill and ingenuity of Pinkerton, his agents and Lincoln's own men to ensure the president-elect's safety.
Doris Kearns Goodwin's tour de force Team of Rivals provided the inspiration for Spielberg's film. She details how Lincoln selected his team of advisers, including his three rivals for the 1860 presidential nomination. Though they often argued among themselves, they stood by Lincoln as he struggled to hold the nation together, fight a war and push the 13th Amendment through a recalcitrant Congress. Goodwin's book showcases Lincoln's unusual capacity for empathy, and how it helped shape his political career.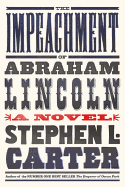 The Impeachment of Abraham Lincoln begins with the question: What if Lincoln had survived Booth's bullet? Yale law professor Stephen Carter begins his novel in 1867, as Lincoln faces impeachment for offenses against the nation committed during the war. At the same time, Abigail Canner, a black woman newly graduated from Oberlin, begins clerking at the law firm hired by Lincoln to defend him. When one of the firm's partners is found murdered, Abigail and her colleagues suspect a conspiracy. Part thriller, part historical novel, Carter's tale is full of colorful characters and intriguing questions.
Lincoln may always remain a mythical figure, but these three books help shed light on his talents and character. --Katie Noah Gibson, blogger at Cakes, Tea and Dreams