Honoring Nurses
There is a celebration day for almost anything. In May, we have Mother Goose Day, Save the Rhino Day, Lost Sock Memorial Day (but no Dryer Day) and, of course, Cinco de Mayo and Memorial Day. Less familiar is National Nurses Day, May 6. First observed in 1954, it marks the beginning of National Nurses Week, which ends May 12, the birthday of Florence Nightingale.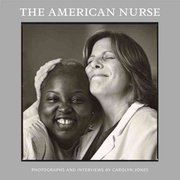 If you know a nurse, like a nurse or have given thanks to a nurse, Welcome Books has the perfect book for you: The American Nurse: Photographs and Interviews by Carolyn Jones ($60). Jones, a photographer and filmmaker tells the stories of 75 women and men in "an ode, a celebration, a vote of gratitude" to extraordinary people. Her book and website are the first steps in The American Nurse Project; next is a documentary film following six nurses around the nation, like Jason Short, a former mechanic and truck driver who now works in the remote hollows of eastern Kentucky, and Tonia Faust, who directs the hospice program at Angola State Penitentiary in Louisiana.
The book is oversized, with a portrait on one page, the nurse's story on the facing page. Stories like that of Heather Cowan, who got her RN when she was 50 and now works in a hospice, where, she says, intimacy and honesty call forth the best parts of herself. Venus Anderson is a life-flight nurse whose stance of no emotional connection with trauma patients changed after her father died on an emergency flight--connection is no longer a waste of time to her. Mohamed Yasin, a nurse manager, mentors new nurses, explaining it's not the glass of water that they give, it's how they give it "that will make it tasty."
Jones says, "Nurses have seen things that none of us can imagine. I'm in awe... they are a special breed." With her book, we can share in her awe and be grateful. --Marilyn Dahl, editor, Shelf Awareness for Readers