Neal Thompson: Edgy
Neal Thompson likes edges. In his previous newspaper career, he was always looking at the fringes for overlooked stories. With his first book, Light This Candle: The Life and Times of Alan Shepard, the story was not so much overlooked as hidden, as Shepherd was a very private man. He was also brash and colorful, and was regarded as the best astronaut of the original Mercury Seven--a perfect subject for Thompson, who said, "I'm awed by guys who push themselves to some types of extremes, be it physical, emotional professional." He likes to explore not just where that drive and focus take a person, but also where they come from.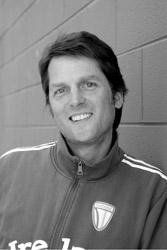 He next wrote Driving with the Devil: Southern Moonshine, Detroit Wheels, and the Birth of NASCAR. Today, NASCAR is a family sport, but its origins lie with Depression-era Southern moonshiners, Ford-V 8s and ace mechanics (cue Robert Mitchum in Thunder Road). A different type of focus led Thompson to write Hurricane Season: A Coach, His Team, and Their Triumph in the Time of Katrina--an inspirational story of perseverance, trust, respect and dignity.
Now Thompson's gone back to the fringe in A Curious Man: The Strange and Brilliant Life of Robert "Believe It or Not!" Ripley (our review is below). Ripley was shy and geeky; all he had going was talent as a cartoonist. He was odd-looking, with prominent buck teeth, and was drawn to odd people; his cartoons championed the misfit and the oddball. He had a passion for strange things, an obsessive curiosity, and turned his "Believe It or Not" concept into a popular radio show. With the resulting fame and fortune, he lived a "wildly incautious life"--reckless, adventurous and nuts.
Thompson is pursuing a new story, one that's about an extreme culture that promises to be as fascinating and compelling as flamboyant astronauts and oddball entrepreneurs. --Marilyn Dahl, editor, Shelf Awareness for Readers