Fictional Stories, Real Food
There has been a growing trend over the past few years to write novels and memoirs that include recipes, although now it's no longer a trend, it's a genre. Obviously, some books are more successful than other with this; really, how many recipes for chocolate chip cookies can the market bear? But when it works, it's very good. I still make the banana bread recipe (to great acclaim) from Molly Wizenberg's wonderful memoir, A Homemade Life. Check it out.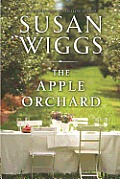 Recent months have seen many entries in the book-with-recipes category. Susan Wiggs's latest novel, The Apple Orchard, about a California apple orchard, an unwilling half-heiress to same, and the pleasures of food and family, is a captivating and charming story. So are the recipes, like lavender scones, and apple chutney. She says, "It's always lovely to come across a recipe that's good enough to share. My criteria for including a recipe in a book is that it needs to work thematically with the novel, it has to be delicious and it has to be reasonably easy to prepare. I like to picture my readers having their book club over and preparing something from one of my novels."
Meet Me at the Cupcake Café: A Novel with Recipes by Jenny Colgan is "a sweet story of love, new beginnings--and cupcakes." Issy Randall loses her job and her boyfriend, but gains a cupcake shop, some new friends and a cute banker. Besides the story, the reader also gets recipes for Heena's Secret Doughnuts (with ginger and lime curd), the Best Birthday Cake Ever and Strawberry Meringue Cupcakes.
Since July is National Blueberry Month, special mention must be given to The Irresistible Blueberry Bakeshop and Café by Mary Simses (see our review below). There are no recipes in the book, but the cover photo for this delightful read is downright scrumptious (and Little, Brown provided this). --Marilyn Dahl, editor, Shelf Awareness