Books I Gave Away
I love giving books--to friends, family, acquaintances, occasional strangers. On Indies First Day, November 30, my husband, Paul, and I visited five bookstores and bought 27 books. We had a short list of gift books, but ended up with many more because booksellers (and authors) hand-sold so well, and we found unexpected treasures. Here's some of what I bought on that day to give away:
Leif Enger's marvelous classic Peace Like a River. I cannot count how many copies of this I have given since 2001. An asthmatic boy, an outlaw older brother, a tomboy sister and miracles--faith and family and adventure.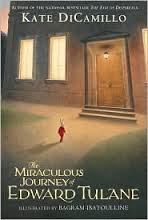 I picked up a copy of The Miraculous Journey of Edward Tulane by Kate DiCamillo, wondering if it was as wonderful as I had remembered. I paged through, read the last two pages, teared up, and said "Yes. Yes!" Just like Edward.
Our reviewer Valerie Ryan loved Monument Road by Charlie Quimby so much she asked for space for a longer review. A year and a day after his wife's cremation, Leonard Self prepares to throw her ashes, and himself, off her favorite overlook. Valerie said, "It's an exquisite story; it is a joy and a wonder and a tour de force of authorship."
Me Before You by JoJo Moyes. A sheltered young woman becomes a caretaker for a sarcastic quadriplegic man. Romance, wit and an exploration of the right of a disabled person to end a life he can no longer control.
Then She Found Me by Elinor Lipman. Overbearing Bernice descends on her quiet daughter, whom she gave up for adoption 36 years ago. It was hard to choose--every Lipman novel is absolutely swell, and I learned a long time ago to prolong the last few pages, because she writes the best endings.
Paul was enthusiastically hand-sold Stacy Horn's Imperfect Harmony, an account of the author's experience and joy in choral singing. He is now looking for a choir to join. --Marilyn Dahl, editor, Shelf Awareness for Readers