Cats Are Alpha
It seems that it's all dog books all the time around here, since we have a dog-centric office. (Although most of our editors are cat people.) So it's a pleasure to come across a lovely cat book, and there might be none lovelier than Alpha Cat, a hardcover published by Officina Libraria, distributed by ACC ($24.95). Illustrated by Gabriella Gallerani (who, oddly enough, lives with a parrot and a Yorkie) and written by Paola Gallerani (who does have a cat named Quazzo), it's an A to Z compilation of cat breeds, and Gabriella Gallerani, a scientific illustrator, has captured the essence of felinity with meticulous detail and wit.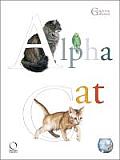 "O" is for Ocicat, a new breed that forms an exclusive bond with a person and suffers from loneliness. The striped cat peers out from an "O" with an intense gaze, daring you to leave it alone. "S" is, of course, for Siamese, and the cat looks quite regal curled around its letter. The Ragdoll coyly poses behind the "R," while a Manx kitten stretches down and across the "X" to reach a goldfish bowl.
In addition to the charming illustrations, Paola Gallerani has added quotes, poems and book excerpts; with each letter entry, she includes tidbits about cats with the corresponding name: "H" has Henri (Le Chat Noir) of YouTube fame; Hope, a cat who survived the 9/11 attacks while protecting her kittens; Humphrey, the Chief Mouser at Downing Street from 1989 until retiring in 1997; Hello Kitty, the iconic "empress of merchandising."
And cat haiku:

My brain: walnut-sized.
Yours: largest among the primates.
Yet, who leaves for work?
"One cat just leads to another...." In Alpha Cats, it's a delightful progression. --Marilyn Dahl, editor, Shelf Awareness for Readers