Beach Reading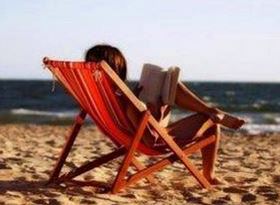 "Beach reading" usually means paperback, possibly serious but not too, and above all, a page-turner. We have some suggestions for the beach, or wherever:
Eli Brown combines a swashbuckling piratical adventure with gourmet cooking in Cinnamon and Gunpowder (Picador, $15); his risk pays off--the two go together in a scrumptiously entertaining romp on the high seas in the year 1819.
The Supremes at Earl's All-You-Can-Eat by Edward Kelsey Moore (Vintage, $15) is a funny, tenderhearted debut novel about the enduring friendship of three women through life's great challenges, and the vividly drawn town in which their dramas take place.
With The Silver Star (Scribner, $16), Jeannette Walls shifts to fiction with a story of two sisters--12-year-old Bean is feisty and precocious; her older sister, Liz, is a prodigy who voraciously reads the classics--whose eccentric mother leaves them to fend for themselves.
Skippy Dies by Paul Murray (Faber & Faber, $16) is set at an elite Dublin Catholic boys' school, where the boys slog through their days, usually through a hormonal haze, in a hilarious and harrowing novel.
Stieg Larsson and CSI meet Renaissance Italy in Michael Ennis's ambitious The Malice of Fortune (Anchor, $15.95), in which Leonardo Da Vinci and Niccolò Machiavelli team up to investigate a series of grisly murders.
The Boys in the Boat: Nine Americans and Their Epic Quest for Gold at the 1936 Berlin Olympics by Daniel James Brown (Penguin Books, $17) provides nail-biting suspense and detailed background to an Olympic triumph--a rare, thrilling you are there quality that epitomizes the best in sportswriting.
Josh Hanagarne, a 6' 7" gentle giant, tends to catch the eye (or ear) at his job at the Salt Lake City Public Library, even when his Tourette Syndrome is not acting up. His memoir, The World's Strongest Librarian: A Memoir of Tourette's, Faith, Strength, and the Power of Family (Gotham, $17), is a remarkable journey from idyllic childhood to painfully jerky young adulthood to a contented family and work life. --Marilyn Dahl, editor, Shelf Awareness for Readers