Louis Zamperini's Remarkable Story
Louis Zamperini, an Olympic runner and World War II airman whose "remarkable story of survival during the war gained new attention in 2010 with the publication of a vivid biography by Laura Hillenbrand, Unbroken: A World War II Story of Survival," died July 2, the New York Times reported, of pneumonia at age 97. Unbroken has spent more than three years on the Times bestseller list--a notable achievement for a hardcover book. On July 29, Random House will publish Unbroken in paperback, occasioning a further long run on bestseller lists. In addition, a movie adaptation of Unbroken from Universal Pictures, directed by Angelina Jolie, is scheduled for a Christmas 2014 release.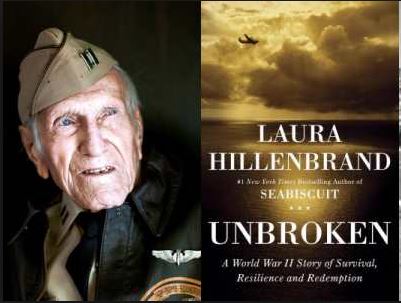 For those who don't know Zamperini's story, Miami Herald columnist Leonard Pitts, Jr., provides perspective in his July 8 column. He writes that no one who has read the book will be surprised to learn that "it took that fearsome disease 40 days to claim this 97-year-old man. If Zamperini was nothing else, he was a fighter. Whatever life threw at him, he threw back. Whatever it piled on top of him, he overcame.
"The lessons of his life are manifold and manifest, a master class in moral and physical fortitude, resilience and resistance, the criticality of human dignity, the importance of fight, faith--and forgiveness.
"We could use some of what... Zamperini, in particular, had. He overcame sharks, torture, hunger, gunfire, the Pacific Ocean and his own demons to die peacefully at an advanced age with his family around him. No, he is not a hero. He is whatever comes after that."
In her eulogy, Lauren Hillenbrand said, "His laughter was irrepressible because he looked about him and saw only blessings. The most beautiful thing about this wondrous man was that he wished for all of us to see in our own lives what he saw in his. His story was his gift to us."
Wait for the paperback or buy the hardcover now--you will be amply rewarded. --Marilyn Dahl, editor, Shelf Awareness for Readers