Unnatural Choice
As almost anyone who wasn't on a desert island the last few weeks knows, Amazon.com introduced its Fire tablet this week.
On an abstract level, it's easy to admire the company's achievement. Who could imagine even five years ago a device with a color screen weighing less than a pound that enables a person to instantaneously download any of nearly 20 million books, songs, movies, TV shows, newspapers and magazines to it--and then immediately read, watch or listen to them?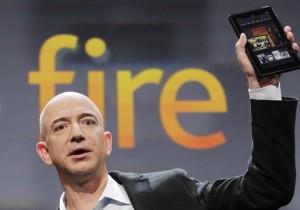 At the same time, it's easy to fear Fire. That's because Amazon uses proprietary systems and formats for all its e-reader devices, which means that if you own a Kindle or a Fire, you have to buy all your e-books from Amazon. (In addition, the Fire operates in a way that allows Amazon to collect all kinds of information about how and where users browse and buy online.)
By contrast, if you own e-readers like the Barnes & Noble Nook or Sony Reader or Kobo, you can buy e-books from anyone--including many traditional bookstores that offer major publishers' books at the same price as Amazon. Likewise, the many e-reader apps like Google Books and Blio play well with others. (Most of these apps are free and work very nicely, based on our experience.) So if you prefer reading e-books and you use any e-reader or app that's not an Amazon product, you can still support bookstores that do so much to help us learn about books and authors. With Fire or Kindle, however, you have to make an unnatural choice between e-books and your favorite bookstore down the street.
Many in the book business worry about power becoming concentrated in the book world. Amazon likes to play rough: recently it spent $5 million to force a referendum in California on a law it didn't like. (The state and Amazon have since come to a compromise.) Publishers say quietly that since Borders's collapse, Amazon has become even more aggressive about wanting better deals. It's also set up its own publishing division and may well publish some books that aren't available outside the Amazon e-cosphere. A closed system doesn't bode well for the general book universe, which for its many quirks and flaws, still brings reading pleasure to tens of millions of people.
Happy reading! --
John Mutter