More Joy of Summer Reading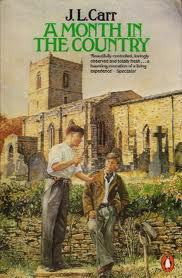 More summer reading memories (see part one and two) from our staff: we'll begin with contributing editor Robert Gray, and J.L. Carr's A Month in the Country: "A smart, sweet and bittersweet novel. 'Summertime! And summertime in my early twenties! And in love!' Tom Birkin--who is not an exclaimer by nature--exclaims. 'No, better than that--secretly in love, coddling it up in myself. It's an odd feeling, coming rarely more than once in most of our lifetimes. In books, as often as not, they represent it as a sort of anguish but it wasn't so for me. Later, perhaps, but not then.' "
Shelf Awareness editor-in-chief John Mutter was no longer going to summer camp at 17, but "staying at home and working at a Jewish deli, an education in life but very hard work involving dishwashing, busing, sweeping, cooking, trash hauling, etc. In my free time I read The Hobbit and the Lord of the Rings trilogy, all of which I loved. I think it was the beginning of tradition: finding escape in books while working in some jobs that didn't exactly engage my imagination."
Bill Bryson's A Walk in the Woods always makes Alex Mutter, associate editor, think of summer 2006. "I spent a month as a counselor-in-training at a YMCA sleepaway camp in the Catskill Mountains. A big part of the program was going on a seven-day hiking trip. The hike was as terrible as it was amazing. I read A Walk in the Woods shortly after getting back from camp, and although I hadn't hiked nearly as far as Bryson, [it] resonated with me. In particular, I still remember his description of the noise his hiking partner, Katz, made whenever he took off a heavy backpack: the word 'f**k,' stretched out by a long, exhausted sigh. I'd both heard and made that noise many, many times that summer."
There are still a few weeks of summer left--tell us about your seasonal reading memories. --Marilyn Dahl, editor, Shelf Awareness for Readers