The Great Nobel Laureate Book Search
Yesterday 80-year-old Swedish poet Tomas Tranströmer won the 2011 Nobel Prize in Literature "because, through his condensed translucent images he gives us fresh access to reality," as Peter Englund, permanent secretary of the Swedish Academy, put it.
Neil Astley, founder of Bloodaxe Books, observed that in Sweden, Tranströmer "has been called a 'buzzard poet' because his haunting, visionary poetry shows the world from a height, in a mystic dimension, but brings every detail of the natural world into sharp focus. His poems are often explorations of the borderland between sleep and waking, between the conscious and unconscious states."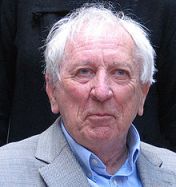 One of my favorite Tranströmer works is his prose poem "The Bookcase" (translated by May Swenson), which begins:


It was brought from the dead woman's apartment. It stood empty a few days, empty until I filled it with books, all the bound ones, those bulky tomes. With that act I had let in the underworld. Something swelled up from below, mounted slowly, inexorably, like mercury in a gigantic thermometer. You were not allowed to turn your head away.

Tranströmer suffered a stroke two decades ago, which affected his ability to speak, though he has continued to write. Astley told the Independent that the author often expresses himself through music. At the Nobel ceremony, "I imagine he'll be in a wheelchair, and he will speak to people through the piano."

The scramble has begun internationally to track down Tranströmer's books. Here in the U.S., Tranströmer's English translations include The Sorrow Gondola (Green Integer), The Great Enigma: New Collected Poems (New Directions), The Half-Finished Heaven: The Best Poems of Tomas Tranströmer (Graywolf), For the Living and the Dead: A Memoir and Poems (Ecco) and Selected Poems: 1954-1986 (Ecco).

Maybe you already had Tranströmer's works nestled in your bookcase. If, however, you've just joined the search party, my advice is to be patient. Your quest may take a little time, but it will be well rewarded. --Robert Gray