Gift Books: Food
In The Chef Says: Quotes, Quips and Words of Wisdom, edited by Nach Waxman and Matt Sartwell (Princeton Architectural Press, $14.95), cookbook author and restaurant consultant Joyce Goldstein says, "As a recipe addict, I can never have enough." In this vein, we present our annual food issue, having culinarily fantasized our way through dozens of cookbooks.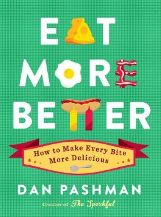 Eat More Better by Dan Pashman (Simon & Schuster, $29) gets my vote for not only yummy recipes, but for wit. His discourse on bullying by those who say French fries should be dipped only in ketchup, or discussion of the nuances of forkability and sauceability of the ideal macaroni shape for mac and cheese, will appeal to even the most jaded gourmand.
A Royal Cookbook: Seasonal Recipes from Buckingham Palace by Mark Flanagan and Edward Griffiths (Royal Collection Trust, $24.95) is not a book with practical recipes, unless you usually cook with partridges or smoked haddock, but the stories and the photos are gorgeous--a treat for both Anglophiles and non. Ladurée Macarons by Vincent Lemains, with photographs by Antonin Bonnet (Hachette Livre, $39.95), is charming and comes in a box; it's replete with lush images and exquisite recipes, padded cover and metallic rose fore edge.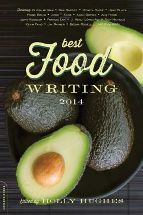 Reading about food is also delightful. There's much to savor in The Best Food Writing 2014, edited by Holly Hughes (Da Capo, $15.99), from home cooking to extreme eating to personal stories. In Books That Cook: The Making of a Literary Meal (NYU Press, $30), Jennifer Cognard-Black and Melissa A. Goldthwaite have collected American literature about food--fiction, poetry, nonfiction--with recipes. Critic and professor Sandra M. Gilbert goes one step further by including blogs, art, movies and TV as well as literature in The Culinary Imagination: From Myth to Modernity (Norton, $29.95)--an exploration of our relationship with food and eating. --Marilyn Dahl, editor, Shelf Awareness for Readers