Bookstore Literary Tours
Many of us in the cold, snowy parts of the country are daydreaming about travel to warm places. This year several independent bookstores are making booklovers enjoy the daydreaming even more than usual: they have plans to lead literary trips this spring and summer to France and Italy.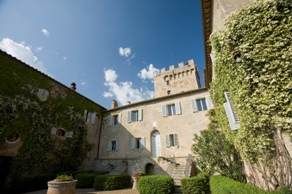 BookPeople of Moscow's Tuscan villa.
Last year, Rainy Day Books, Fairway, Kan., conducted an 11-day literary tour in England; this summer, June 22-July 5, the store will take a group to Italy, with stays in Venice, Tuscany and Rome. Led by Rainy Day owners Vivien Jennings and Roger Doeren and travel specialist Lisa Ball, the trip includes author events; literary walking tours; visits to, among many other sites, St. Mark's Basilica in Venice, the Duomo in Florence and the Vatican; museum and gallery tours led by expert guides; excellent food and drink; and more.
For the third year in a row, Politics & Prose, Washington, D.C., is offering a "Springtime in Paris" trip, running May 3-9 with an optional weekend extension until the 12th. The emphasis is on exploring and getting to know Paris "in a more intimate way." Travel veterans Sheila Campbell and Donna Morris "will lead small groups, via Metro or city buses, moving about the city like Parisians. You can spend as much, or as little, time with the group as you like." A bonus: author Cara Black and P&P senior book buyer Mark LaFramboise have selected books that participants might want to read beforehand.
BookPeople of Moscow, Moscow, Idaho, is leading a "literary and historical feast" July 23-30 to an estate in Tuscany that will include demonstrations of historical Tuscan cooking techniques and discussions of Tuscan history; cooking classes; a writing workshop led by bookstore co-manager Jamaica Ritcher; a book group with recommended reading focused on Italy organized by store owner Carol Spurling; a tour of local bookstores; excursions into the countryside and to the seaside; and beginning Italian lessons. Buon'idea! --John Mutter, editor-in-chief, Shelf Awareness