Stuart Scott, 1965-2015
When sports broadcaster Stuart Scott died in January, tributes were legion, with people choking up on camera ("he made us better people"), grieving, bewildered that such a vital man who had battled--attacked--cancer for five years had lost. Yet, as Scott explained in his memoir, Every Day I Fight (Blue Rider Press), he didn't lose--he beat cancer by how and why he lived. His story is so good, it will "make you want to sop it up with a biscuit" (a famous Scott phrase).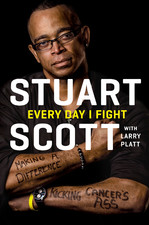 In her foreword, Robin Roberts writes that when Scott joined ESPN in 1993, "Our cool factor went off the charts with Stu roaming the halls." Indeed, Scott was, in another phrase he coined, "cool as the other side of the pillow," but his coolness came not so much from his hip-hop persona as from his life as a father and friend. He grew up in a strong, loving family, and fatherhood with two daughters was his passion. His friendships were deep and lasting. He was a mentor, and a role model for being true to oneself; as Dan Patrick said, "He took a lot of chances but he never wavered."
On July 16, 2014, Scott received the ESPY Jimmy V Award for Perseverance, and his moving speech went viral. Two months later, he spent 75 days in New York-Presbyterian Hospital. He wrote, "It's hard to pinpoint the moment you hate cancer the most. There are so many finalists in the game." But when it came, "I started the day hating cancer with a passion, and I ended it with love bursting outta me. That's what cancer does: It messes with you, but it also makes your love so much bigger." He goes on: "Speaking of big love: That hospital time gave me time with the girls, and it gave me time with God.... To paraphrase a suave-looking dude you all saw at the ESPYs, you don't beat cancer just by living--you beat it by how you live."
Every Day I Fight is a memorable, joyful ode to a life well-lived and well-loved. As Scott would say: "Booyah." --Marilyn Dahl, editor, Shelf Awareness for Readers