How Wolf Hall Changed My Historical Perspective
As a big fan of Hilary Mantel's Booker Prize-winning novels Wolf Hall and Bring Up the Bodies, I'm eagerly anticipating this Sunday's premiere of the BBC adaptation on PBS Masterpiece.

My relationship with Thomas Cromwell has been a curiously organic one, and it all started at Manhattan's Frick Collection during the late 1990s. The first time I entered the Living Hall, I was immediately drawn to Hans Holbein's extraordinary painting of Sir Thomas More, who seemed noble, keen-eyed, brilliant. My reaction was certainly influenced by Utopia, one of my favorite books, as well as Peter Ackroyd's 1998 biography, The Life of Thomas More.

On the same wall, Holbein's portrait of Cromwell had the opposite effect. I saw him as uptight and staid, like a grouchy uncle at a family reunion. He glared across the fireplace at More with envy and scorn. Or so I believed.

Then I read Wolf Hall in 2009. The next time I visited the Frick, Cromwell had altered dramatically, his expression radiating subtlety, mischievousness and wisdom, while More seemed a bit... dyspeptic. I knew who was to blame. Mantel had completely disarmed my longstanding--and admittedly irrational--prejudice against Cromwell through her brilliant fictional portrayal.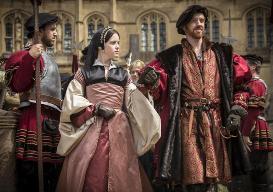 Since then, I've been a changed man and can't wait to see two of my favorite actors--Mark Rylance as Cromwell and Damian Lewis as Henry VIII--bring Mantel's world to life on Sundays at 10 p.m. from April 5 to May 10. (More is played by Anton Lesser, though he's buried in the cast list. No disrespect intended, I'm sure).

In addition, the Royal Shakespeare Company's stage adaptation, Wolf Hall Parts One & Two, is currently in previews at the Winter Garden Theatre in New York City and opens April 9. Sounds like a great excuse for a road trip, with a ceremonial pilgrimage to the Frick Collection to see my old pals again. --Robert Gray, contributing editor