On Browsing
I hope no one will mind if I give a shout out to my very local indie bookstore, One More Page Books in Arlington, Va. I say "very local" because Eileen McGervey's new (launched in 2011) shop is less than a mile from my front door--I can even walk there via the W&OD Trail bike path.
But I'm not talking up One More Page to get you to shop there (although you would be very happy if you did). I want to talk about a quote I read recently in the delightful Pushcart Press compendium of quotations Book Love: A Celebration of Writers, Readers, and The Printed Bound Book, edited by James Charlton and Bill Henderson (who also wrote the introduction). Helene Hanff's quote is "I don't browse in bookshops. I browse in libraries, where you can take a book home and read it, and if you like it you go to a bookstore and buy it." It stopped me right in my tracks with its elegant logic.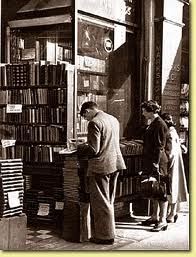 I find Hanff's reasoning sound, but for me, browsing in a library is wholly different than browsing in a bookstore. In the library, things are catalogued and cross-referenced. Anyone who has ever worked on a research paper will know the feeling of sliding down an archival rabbit hole while digging out library material that leads you in all different directions, but are, happily, somehow connected.
In a bookstore, you may wind up running in different directions, but it won't always be because things are connected. Perhaps you spend an hour looking at the latest mysteries--then remember that you need to find a great book on wine for a Father's Day gift. Oh, and your book club chose that bestselling novel... hmmm, what's this? A new literary magazine?
Libraries and bookstores are both wonderful places to browse, and I prefer not to go without either one.--Bethanne Patrick