Steve Jobs
The biggest book of the year was published this week. Like one of the subject's own products, it was masterfully timed, packaged and presented--and delivers the goods.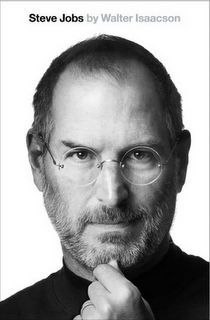 We're talking about Steve Jobs, the biography by Walter Isaacson (Simon & Schuster), who was asked by the Apple co-founder and tech icon to write his life's story. (See our review below.) Uncharacteristically for Jobs, he gave Isaacson unfettered access and free rein. In the end, Jobs did exercise some of his famous micro-managing and penchant for control: although he didn't ask for changes, he reportedly decided on the cover portrait (in black and white).

The book makes for mesmerizing reading and includes stories from the subject's childhood that everyone can identify with. Our favorite from that period: bored in school, a young Steve Jobs once put up signs for a very unsanctioned "bring your pet to school day."

Isaacson also recounts Jobs's triumphs and temporary setbacks, everything from the original Apple II to his expulsion from Apple to his triumphant return to Apple, right through to the iPhone 5. He also delves into some of the stickier aspects of Jobs's career and his personality. Did he really stiff his co-founder out of puny bonus years ago?

Jobs said that in this book, he wanted to be written about "warts and all." Isaacson proved equal to the task, and, interestingly, this is one of the major attractions of Steve Jobs: the more we learn about Jobs, the more compelling, human, brilliant, flawed, awful and wonderful he becomes.

Although much more time must pass before we can fully understand and measure Steve Jobs's contributions to the world, for the foreseeable future, this is the definitive biography for now. We highly recommend it.

Happy reading!