Every Picture Tells...
The homes of American presidents range from the iconic Monticello and Mt. Vernon to the grand summer retreats of the Kennedys and the Bushes to the modest homes of Truman and Carter. In The House Tells the Story: Homes of the American Presidents (David R. Godine, $40), artist Adam Van Doren presents portraits of 15 homes he found intriguing. As his friend David McCullough writes in the foreword, "with his eye for architecture and the human element, not to say his distinctive sense of humor, Adam... sees them anew, and consequently, so do we."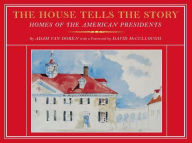 Van Doren introduces each house with a somewhat formal depiction, but the appeal comes from his correspondence with McCullough. Each multiple-page letter is a series of delicate watercolors, with words written over, under, around or sometimes directly on the art. In the letters and renderings, Van Doren explores "what makes [the men] human." He takes note of the lovely grounds at Mt. Vernon while describing the slave quarters, whose inhabitants did not "have the luxury of taking a break under a tree, or relaxing briefly on the grass."
Woodrow Wilson's home in Washington, D.C., is a trove of personal touches: the grand piano his daughter played, an old movie projector--Wilson was a fan of silent moves--and a set of canes he used in his last years. Jimmy Carter's childhood home in Plains, Ga., is a Sears Roebuck bungalow, with an outhouse, a windmill and railroad tracks across the way. Carter recalls hearing the freight trains pass through twice a day--he liked to count the cars.
In order to paint the Bush home in Kennebunkport, Maine, Van Doren decided to locate on a breakwater. His pencil and brushes would fall into crevices, and stooping over, he had to make sure he didn't trip and drift out to sea, "ending up like some casualty in a Winslow Homer scene."
The House Tells the Story tells many. As publisher David Godine says, "The reader gets to visit [the homes] personally, without the gloss of bureaucratic puffery." --Marilyn Dahl, editor, Shelf Awareness for Readers