More Summer Reading
My reliable fallback for summer reading--or any time I want already known pure pleasure--is anything by Elinor Lipman or Mary Stewart. Add to that the witty Edmund Crispin, Patricia Wentworth and Georgette Heyer mysteries, and I have my desert island library. Oh, and Dorothy Sayers and P.D. James. And... and....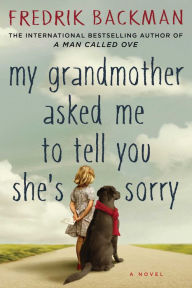 Lately I've read a few books that not only are good vacation choices, but are novels I expect I'll be rereading. Last year one of my favorites was A Man Called Ove (Washington Square Press, $16) by Swedish author Fredrik Backman, about a curmudgeonly widower determined to kill himself and why he changes his mind. Grim? Not at all; it's warm and funny. Backman's second novel is My Grandmother Asked Me to Tell You She's Sorry (Atria, $25), about a young girl and her best friend--her crazy and eccentric grandmother who spins fairy tales. When Elsa's grandmother dies, she leaves behind letters of apology Elsa is determined to deliver to their intended recipients. It's as funny and warm as Ove, and as surprising.
Patrick Ness artfully retells a famous Japanese fable in The Crane Wife (Penguin, $16). It opens with a man awakened in the dead of night by an eerie, mournful cry. He finds a wounded white crane in his garden, and his odyssey with an artist named Kumiko begins. Ethereal, romantic, witty--it glows with passion and magic.
Marry, Kiss, Kill (Prospect Park Books, $15) by Anne Flett-Giordano is absolutely hilarious, and worth re-reading if only to memorize some of the witty lines spoken by Santa Barbara police detective Nola MacIntire. With her randy partner, Tony Angellotti, she's involved in eco-terrorism, real estate scheming and murder. The rat-a-tat banter will delight you, as will Nola's takes on being a woman. --Marilyn Dahl, editor, Shelf Awareness for Readers