Hiroshima and Nagasaki, 70 Years Later
This week marks the 70th anniversary of the bombings of Hiroshima and Nagasaki. The atomic and plutonium bombs killed 129,000-246,000 people, mostly civilians. A year later, John Hersey's classic Hiroshima was published in the New Yorker; subsequently brought out in book form by Knopf, it has never been out of print and has sold more than three million copies.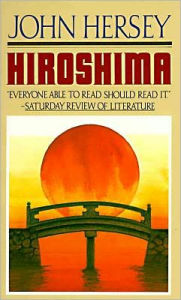 Hersey relates the experiences of six people in the city, beginning: "At exactly fifteen minutes past eight in the morning, on August 6th, 1945, Japanese time, at the moment when the atomic bomb flashed above Hiroshima, Miss Toshiko Sasaki, a clerk in the personnel department at the East Asia Tin Works, had just sat down at her place in the plant office and was turning her head to speak to the girl at the next desk." Hersey's prose technique suited the story well; as he wrote in a letter to historian Paul Boyer, "The flat style was deliberate, and I still think I was right to adopt it. A high literary manner, or a show of passion, would have brought me into the story as a mediator; I wanted to avoid such mediation, so the reader's experience would be as direct as possible."
The coastal town of Nagasaki was bombed three days after Hiroshima. In Nagasaki: Life After Nuclear War (reviewed below), Susan Southard has written an intense, devastating account of August 9, when the plutonium bomb blasted a circular area of five miles, shattering windows as far away as 11 miles. Southard interviewed five hibakusha (bomb-affected people), and tells their stories from beginning to the present. She also talked to other survivors, historians, physicians, psychologists--surviving the blast was only the beginning; injuries, radiation effects, mental trauma and discrimination followed.
Two horrifying chronicles written 70 years apart, bookends to unfathomable destruction. --Marilyn Dahl, editor, Shelf Awareness for Readers