October Is Breast Cancer Awareness Month
Most women have been touched personally and/or peripherally by breast cancer; its threat looms ever present. So it's not surprising that so much has been written about the disease.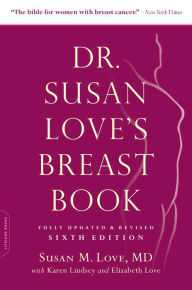 Anchoring the literature is Dr. Susan Love's Breast Book, which first came out in 1990. Now DaCapo Lifelong Books has published the sixth revised edition ($24, paperback). Beginning with a chapter on the healthy breast, the volume continues with 600+ pages about breast cancer: prevention strategies, clinical options, living with metastatic cancer, new genetic testing pros and cons, and screening controversies. This is the definitive source for information.
For a more personal take, with humor and inspiration, Andrea Hutton's Bald Is Better with Earrings (Harper Wave, $17.99, paperback) walks women through dealing with pain and with radiation ("the KFC phase"), alleviating lymphedema with bra shopping, their self-image (earrings!) and others' images of them ("any mention of how you look, whether compliment or insult, reminds you of how you actually look").
Former NPR News executive editor Madhulika Sikka wrote A Breast Cancer Alphabet (Crown, $19 hardcover) to work her way through diagnosis, treatment and recovery. Personal and practical, it contains an often witty A-Z about "Cancerland": ("J is for Journey--it's a cliché we need to dispense with"; "H is for Hair--yes, you can make a federal case of it"; "Q is for Quitting [work]--there'll be days when you feel like it"). She says, "I hate all that claptrap about cancer being a journey. It's not. It's a debilitating disease, and our self-help culture tends to put the onus on the patient. I hope we can change the conversation."
These conversations don't get much more personal than The Story of My Tits, Jennifer Hayden's memoir in graphic novel format (Top Shelf Productions, $29.99, paperback). Hayden begins with "no tits" as a young girl, finally gets them, then loses them at age 43. Our review said she "pulls readers into her own brave, sometimes neurotic, journey as she navigates the difficult twists and hormonal turns of motherhood and cancer." --Marilyn Dahl, editor, Shelf Awareness for Readers