Ghostly Tales
Scary stories aren't just for Halloween, but it's a fine time to tell them (flashlight under chin optional). For the classic tales that have haunted generations--from "The Hook" (the detached hook is left in the kids' car-door handle by the escaped, one-handed prisoner!) to a whole chapter of " 'jump stories' you can use to make your friends jump with fright"--there's Alvin Schwartz's tried-and-true collection, Scary Stories to Tell in the Dark, illustrated by Brett Helquist (Harper, paperback). We asked some children's booksellers to share a few more of their favorite Halloween backlist titles.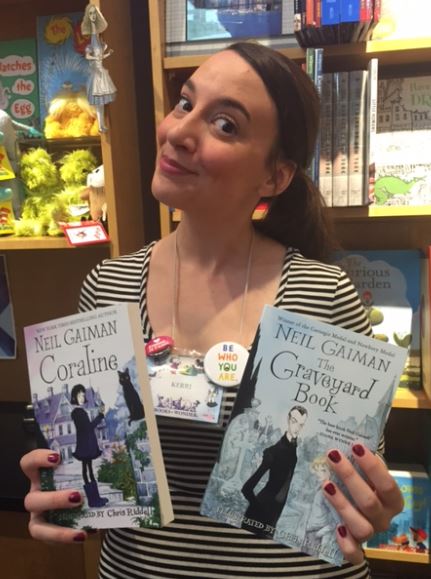 Kerri J. of NYC's Books of Wonder pretends she can handle scary books by Neil Gaiman.
Kerri J. at New York City's Books of Wonder, though she calls herself "a huge chicken" when it comes to scary books, raced over to unshelve Neil Gaiman's Coraline and The Graveyard Book. These paperback British editions, with illustrations by Chris Riddell, are now available in the U.S. as a boxed set, along with the non-Halloweenish Fortunately, the Milk (HarperCollins). If readers thought the button-eyed parents in Coraline were chilling in the mind's eye, wait until they see P. Craig Russell's graphic novel version... yeeeeikes!
Across the country, René Kirkpatrick of Eagle Harbor Book Co. on Bainbridge Island, Wash., suggests Will Hubbell's Pumpkin Jack (Albert Whitman), a winning picture book that shows a decomposing jack-o'-lantern whose seeds begin a whole new cycle of life in a boy's garden.
Kathryn Dennis of Seattle's Mockingbird Books has a soft spot for Washington State author Tom Brenner and Holly Meade's And Then Comes Halloween (Candlewick), a seasonal favorite in cut-paper collage that's "more of a fall book, not scary, about kids getting ready for trick-or-treating," says Dennis. Brenner sets an autumnal tone indeed: "WHEN nighttime creeps closer to suppertime,/ and red and gold seep into green leaves,/ and blackberries shrivel on the vine... THEN hang dried corn,/ still in husks all crinkly and raspy,/ sounding like grasshoppers." It's definitely time to get a pumpkin. --Karin Snelson, children's and YA editor, Shelf Awareness