Remember to Hang by Your Thumbs
We've lost a legendary humorist: Bob Elliott has died at the age of 92. He and Ray Goulding worked in radio, on television and on Broadway. The New York Times noted that their deadpan, sometimes surreal, humor made them "godfathers of a wide swath of alternative comedy," from Second City Television and Saturday Night Live to the Daily Show. They were also authors, and Putnam editor-in-chief Neil Nyren wrote a remembrance of his time working with Bob and Ray: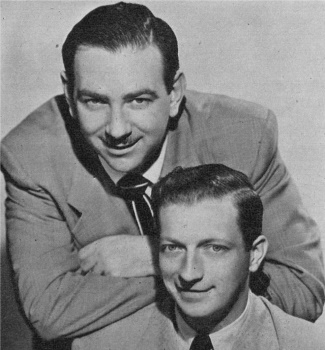 Ray Goulding (l.) and Bob Elliott
"I was lucky enough to have done three books with them. In fact, they were my lucky charm. In my first editorial job, at Random House in 1976, it was Write if You Get Work: The Best of Bob & Ray. When I moved to Atheneum, they came, too, for From Approximately Coast to Coast... It's the Bob and Ray Show. And when I came to Putnam in 1984, I made two deals my first week, the first with Charles Kuralt, the second on The New! Improved! Bob & Ray Book. To judge who their fans were, here's who wrote the forewords: Kurt Vonnegut, Andy Rooney, Garrison Keillor.
"Each book was in the form of a radio show--a hello from the two of them; a series of their best sketches, interrupted by commercials both real and fake; and ending with their signoff: 'This is Ray Goulding saying... Write if you get work. And Bob Elliott reminding you to hang by your thumbs.'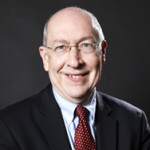 Neil Nyren
"We put these books together in their little office in the Graybar Building in New York City. No jokes--comedy was serious business, though sometimes they couldn't help it: a routine broke out spontaneously. Remarkably, everything they'd performed on the air, all those flights of fancy, worked just as beautifully on paper. I'm thumbing through their books now, laughing myself silly. But there's more to it than just laughter.
"Vonnegut said it best in the first book's foreword: 'There is a refreshing and beautiful innocence in Bob and Ray's humor. Man is not evil, they seem to say. He is simply too hilariously stupid to survive.' And this I believe. Cheers.' "