In Praise of Disagreement
Milkweed Editions has published a thought-provoking anthology that analyzes the many moving pieces of the book industry, Literary Publishing in the 21st Century, edited by Travis Kurowski, Wayne Miller and Kevin Prufer. Publisher Daniel Slager observes in his contribution that "while it does seem clear that the book world is undergoing a change greater than any since Gutenberg invented the modern printing press... it is also true that much remains the same." Avid readers can see that big chain and online retail, print-on-demand and e-books have had varying effects on how books are bought and sold, but Literary Publishing addresses the flux in detail.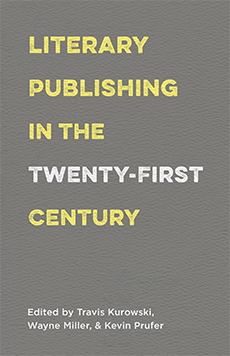 This anthology captures a compelling breadth of perspectives. Gerald Howard, executive editor of Doubleday publishing, considers the finer points of what makes a book successful, not least of which he owes to becoming a better reader over 37 years of doing so professionally. As Richard Nash, a publishing consultant and former head of Soft Skull Press, put its: "The more you read, the better you get at it, the more fun you have."
The world of books and book lovers is built upon stories and ideas, and so it's understandable that there will be plenty of disagreement, unpopular but necessary opinions, dire pessimism and starry-eyed optimism. The anthology includes Daniel José Older's powerful analysis of race, power and publishing, "Diversity Is Not Enough," and Bookslut founder Jessa Crispin's incisive and reflective essay "The Self-Hating Book Critic," which in many way expounds upon and clarifies the criticisms she laid out in her provocative May interview with Vulture.
The editors of Literary Publishing don't intend it to be exhaustive, but rather a snapshot for readers to gain a bit of insight into how a book happens--from the writer's mind to the reader's. Because as agent Chris Parris-Lamb says to Jonathan Lee (High Dive) in an interview, publishing "exists to bring readers books that are worthy of their time and attention." And this anthology is one well worth a reader's time. --Dave Wheeler, associate editor, Shelf Awareness