Special Effects
There was a recent New York Times article about publishers "gilding" books with special effects in order to present a "value package" to compete with e-books. Haruki Murakami's 1Q84 (Knopf) is a prime example, with its semi-transparent dust jacket giving the face underneath a disconcerting visage. The first edition of The Last Werewolf (Knopf) has deckled edges the color of dried blood--it's certainly worth searching out. Stephen Mitchell's dynamic new translation of The Iliad (Free Press) is enhanced by the rough-cut pages, red silk ribbon bookmark and gold foil-stamped cover. A Little History of the World by E.H. Gombrich, though written in 1935, has become "one of the treasures of historical writing" since its first publication in English in 2005. Yale has printed an edition that is sumptuous, from its cloth cover with half-wrap dust jacket to its plentiful illustrations. At $29.95, it's a bargain.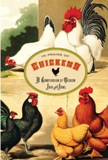 Less opulent are "stocking stuffer" gift books, although The Big Book of Visual Sudoku by Maki Kaji (Workman) would need a very large stocking: 273 puzzles that are both catnip and Waterloo for Sudoku fans. No numbers here; instead, there are sign language letters, Braille dots, Japanese characters, the nine positions on a baseball field, the first nine elements. A real brain workout.
A better fit for a stocking would be Hot Guys and Baby Animals (Andrews McMeel). A dark-haired hunk, David, "likes to talk about his feelings." He's nuzzling a tabby cat, Isis, who "likes to purr it out." Men with dogs, cats, even chickens and a rabbit (Mocha, a shiatsu massage therapist). Very cute.
A few other books that will fit stockings: In Praise of Chickens by Jane Smith (Lyons Press). Chickens are the animal this year (The Chicken Whisperer's Guide; The Way of the Hen), and this little book is filled with both practical and frivolous information. Or try Killer Verse: Poems of Murder and Mayhem (Everyman). From the early 1800s to a poem called "Facebook Psycho," there are verses both amusing and chilling. --Marilyn Dahl