It's No Trick... Halloween Treats
Shelf Awareness sorted through piles of 2016 children's books to find these delicious Halloween-time offerings (see more here).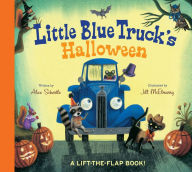 Little Blue Truck's Halloween (Houghton Mifflin Harcourt), by Alice Schertle and illustrated by Jill McElmurry, is a sturdy lift-the-flap board book that introduces the idea of Halloween costumes to the very youngest readers. Toad is driving Little Blue Truck to a Halloween party when they see a duck disguised as a ballerina: "Who's that in a tutu/ striking a pose/ up on the tiniest/ tips of her toes?" Lift the flap and the disguise is revealed: " 'Quack!' says the duck. 'It's me! It's me!' " All the costumed animals they encounter hop aboard the truck until everyone's at the party... except... where did Little Blue go? "Beep! Beep! Boo!"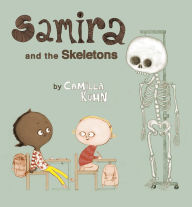 It's always fun to remind people that we all have skeletons inside us. But in Camilla Kuhn's Samira and the Skeletons (Eerdmans), Samira isn't handling the teacher's news well: " 'No way!' Samira shouts. 'I do NOT!' " Kuhn cleverly shows how Samira now perceives her classmates: creepy little skeletons in T-shirts. The real punchline comes when the teacher's lesson plan turns to muscles: "Exactly like a steak." This charmingly illustrated Norwegian import offers a quirky, comical perspective on basic anatomy.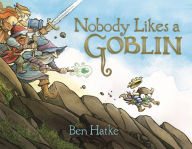 In Ben Hatke's Nobody Likes a Goblin (First Second/Roaring Brook/Macmillan), Goblin visits his best friend Skeleton in the dungeon's treasure room. Just as he's trying on a golden crown, some adventurers rush in and steal everything, including Skeleton. As tiny crowned Goblin walks out into "the wide world" to rescue his friend, a troll warns him to be careful because "Nobody likes a goblin." In this wonderfully illustrated fairy tale, Goblin traverses the countryside undeterred by hostile sorts until he bravely saves his best friend and makes some new ones while he's at it. --Karin Snelson, children's & YA editor, Shelf Awareness