The Book Is... Different
When it comes to film or television adaptations of books, the old snobbish saying is "the book was better," and I've tended to agree with that assessment more often than not. It can be difficult to watch a story you love that doesn't match the version that exists in your head, no matter how faithful the adaptation. And if the movie or show does depart from the book in significant ways, it's common for fans to have a strong negative reaction--if you don't believe me, ask the people still upset that Tom Bombadil didn't make it into the otherwise faithful The Fellowship of the Ring film.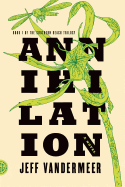 On the other hand, there are movies and shows that depart so significantly from the books that inspired them that they seem like entirely separate visions. I generally favor this approach, because it allows for writers and filmmakers to do more than re-create a story I've already read. For a recent example, see the film adaptation of
Annihilation
, which incorporated elements from throughout Jeff VanderMeer's bizarre Southern Reach trilogy, along with entirely new ideas, to create an opaque, visually stunning puzzle. The television version of
The Magicians
(Penguin Books, $17) is a less demanding watch, but it also significantly remixes the source material to the point that fans of the book series had more than a few surprises in store. Going back some decades, Stephen King and many of his fans never approved of the film version of
The Shining
(Anchor, $8.99), which cut huge chunks of the book and conformed to director Stanley Kubrick's signature chilly style.
The debate over whether "the book is better" is likely to continue in perpetuity, but I'm always happy to see literary adaptations willing to take a chance or two. If the book is truly great, no adaptation will diminish it. --
Hank Stephenson
, bookseller, Flyleaf Books, Chapel Hill, N.C.